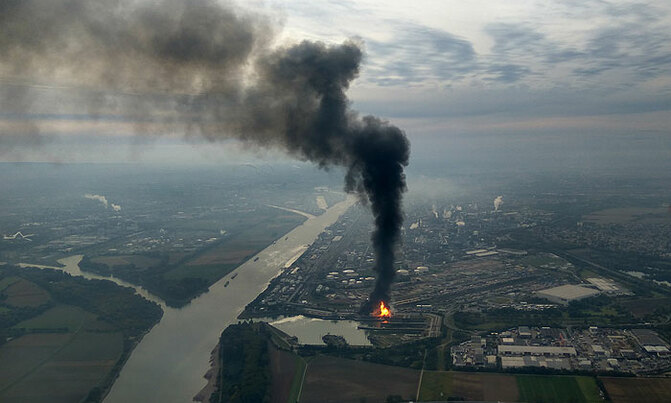 This week got off to a quick start, and some happenings must have slipped past you without notice.
It is already mid-week and plenty has happened all over the world. Take a look at what you might have missed at the beginning of this week . . .
To begin with, this soldier of the Sudan People Liberation Army (SPLA) celebrated while standing in a trench in Lelo, outside Malakal, northern South Sudan on Sunday. Heavy fighting broke out last Friday between SPLA (Government) and opposition forces in Wajwok and Lalo villages, outside Malakal. SPLA commanders claimed they succeeded to keep their positions and assured their forces just responded "on self defence"
The following day, on Monday, students burned a trash bin during a demonstration for free higher education at the North West University Vaal Campus in Vanderbijlpark.
Weeks of protests at South African universities have targeted tuition fees -- but students say they are also about racism and inequality in a society still plagued by the legacy of apartheid.
In Burkina Faso, Burkinabe soldiers stood at the coffins of their killed comrades during a military funeral ceremony in Ouagadougou on Tuesday (yesterday), after four soldiers were killed by suspected jihadist fighters in the north of the country at a border post in Intangom. Unidentified individuals attacked an advanced army post mid-last week at Intangom, five kilometres (three miles) from the Mali border and 20 kilometres from Tin-Akoff on the Niger border
Iraqi forces deployed in the Bajwaniyah village, about 30 kms south of Mosul, on Tuesday after they liberated the village from Islamic State (IS) group jihadists. Tens of thousands of Iraqi forces were making gains on the Islamic State group in Mosul in an offensive US President Barack Obama warned would be a "difficult fight".
Iraqi forces deployed in the area of al-Shurah, some 45 kms south of Mosul, as they advanced towards the city to retake it from the Islamic State (IS) group jihadists. Some 30,000 federal forces led the offensive, backed by air and ground support from a 60-nation US-led coalition, in what was expected to be a long and difficult assault on IS's last major Iraqi stronghold.
Indian members of the All India Anna Dravida Mennetra Kazhgam (AIADMK) organisation carried burning pots during a ritual offered for the health of Tamil Nadu Chief Minister Jayalalithaa Jayaram near the hospital where she is being treated in Chennai. A health bulletin from the hospital stated that the chief minister is being treated for a lung infection and would require a longer stay in hospital.
Meanwhile in Haiti, Hurricane Matthew victims waited for the start of delivery of food from the UN's World Food Programme in the commune of Maniche, in Les Cayes, in the south west of the country. Haiti faces a humanitarian crisis that requires a "massive response" from the international community, the United Nations chief said , with at least 1.4 million people needing emergency aid following last week's battering by Hurricane Matthew.
Still in Haiti, these women walked protecting themself from the rain, in the commune of Chadonyer, in Les Cayes in the southwest. UN Secretary-General Ban Ki-moon last week voiced distress at the "absolute devastation" caused by the deadly hurricane in Haiti, and disappointment at the little emergency aid reaching the struggling nation.
And in Indonesia, this Muslim woman got caned 23 strokes after being caught in close proximity with her boyfriend in Banda Aceh. Out of seven couples caught spending time together outside marriage, 13 were caned while one woman was spared after it was discovered that she was pregnant. Indonesia's Aceh province has gained international infamy for its strict Islamic laws.
On Monday, Indian police tried to maintain control at a protest by members of the Communist Party of India (CPI), trade unions and other parties against a government dismissal of a proposal to form a management board on water sharing rights issues in Chennai. India suffers severe water shortages that cause frequent tensions between states, and the row over sharing the Cauvery River, which starts in drought-hit Karnataka, stretches back decades.
In Israel, evangelical Christian pilgrims from Brazil attended a mass baptism ceremony, in the waters of the Jordan River at Yardenit in northern Israel. According to the gospel, Jesus Christ was baptized in the water of the Jordan River by John the Baptist. Evangelical pilgrims arrived in Israel during the Jewish holiday of Sukkoth or the Feast of Tabernacles to show their support of the Jewish state.
The same day, a long column of smoke rose from the Chemical plant of the BASF site in Ludwigshafen, western Germany. One person was killed and at least six others were missing after an explosion at a chemical plant at BASF's headquarters in western Germany, the firm said, advising local residents to stay indoors.
US President Barack Obama was snapped here reacting as he arrived to deliver remarks (below) on education at Benjamin Banneker Academic High School in Washington,DC on Monday.
Italian artist Maurizio Cattelan posed near one of his sculptures during a photocall on Monday, before the opening of his exhibition "Not afraid of love" in Paris.
People watched a sculpture depicting Pope Jean Paul II "La Nona Ora" by Italian artist Maurizio Cattelan, before the opening of his exhibition "Not afraid of love" at the Monnaie de Paris museum.
By the way, for the football lovers, this is how Real Madrid's Brazilian defender Marcelo celebrated after scoring as the Spanish side thrashed Legia Warsaw 5-1 in their UEFA Champions League group tie at the Santiago Bernabeu stadium in Madrid Tuesday night.
Meanwhile, on the same night, FC Copenhagen players reacted as their fans lit flares in the stadium during their UEFA Champions League group G match against Leicester City at the King Power Stadium in central England. Leicester won 1-0 courtesy of a Riyad Mahrez volley.
And in yet another piece of UEFA Champions League action of Tuesday night, Dortmund's Gabonese forward Pierre-Emerick Aubameyang scored against Sporting CP at the Jose Alvalade stadium in Lisbon, Portugal. German side Dortmund won 2-1.
And finally, the night before, it was Monday night football in the English Premier League as the much-anticipated Liverpool v Manchester United game ended goalless. Here, United's Spanish midfielder Ander Herrera (right) rose for the ball against Liverpool's Brazilian midfielder Roberto Firmino.
OK folks, enjoy the rest of your week!