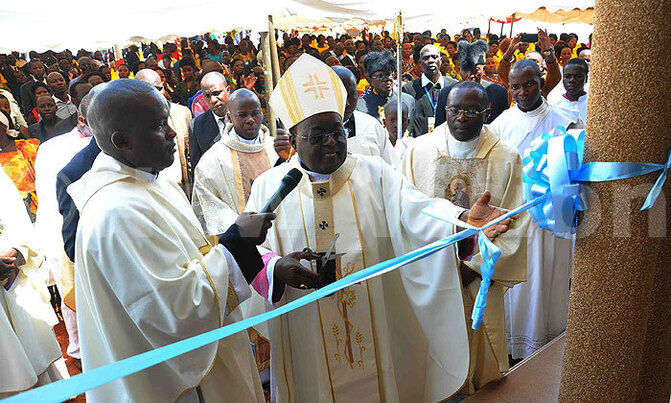 Any person who participates in service presided over by a suspended priest or a dissenter commits sacrilege.
PIC: Archbishop Lwanga cuts a tape to open the priest's house. (Credit: Juliet Lukwago)

The Archbishop of Kampala Archdiocese, Dr Cyprian Kizito Lwanga has cautioned Christians to be wary of false prophets and to shun suspended priests.

He made the remarks while preaching to Christians during the launch of the 64th parish in the archdiocese; St Pius Masajja in Kampala Archdiocese in Wakiso district.

Lwanga said that any priest on suspension is prohibited from administering any sacrament in any diocese.

Recently, a Catholic priest was suspended over misconduct detrimental to the church.

The archbishop challenged Christians to be bold, and tell off those who break away, rather than clap for them. "Christians, don't keep quiet. Come out and tell them that 'you are deceiving us or what you doing is not true'."

He emphasized that any person who participates in service presided over by a suspended priest or a dissenter commits sacrilege, one of the biggest sins in the Catholic Church.

Meanwhile, the archbishop asked Christians to disregard media reports about him that paint him in negative light, saying it is a tactic by enemies to derail the Church.

He conducted wedding for six couples: Edward Kayiira Ssalongo and Paulina Nakaggwa Nalongo; Silva Mbaziira and Stellah Nakabanda, Andrea Kasibante and Harriet Nampeera, Fred Kaggwa and Florence Kiiza Nampiima and Aloysius Wamala and Margaret Najjemba.

In that spirit, he decried domestic violence, saying it has devalued the institution of marriage.

The first parish priest Fr Dr Mark Richard Ssajjabbi, who is also the pastoral coordinator of Kampala Archdiocese, was introduced. The curate is Fr Emmanuel Lubega.

Fr Francis Xavier Kikomeko, who is parish priest of St Joseph Catholic Parish Ndeeba where Masajja was sub-parish, expressed joy over the new parish.

He said this is the fourth parish carved out of Ndeeba. The first was Kibiri, Ndejje Namasuba and the Masajja.

Joseph Ssekadde, head of laity on behalf of Christians, thanked the Archbishop for upgrading their sub-parish into a full parish and vowed to work with Sajjabbi and team to develop their parish.

Among the notable people in attendance were Wakiso district chairman Matia Lwanga Bwanika, area MP Ssempala Kigozi, Makindye Ssabagabo mayor Gerald Lumbuye.