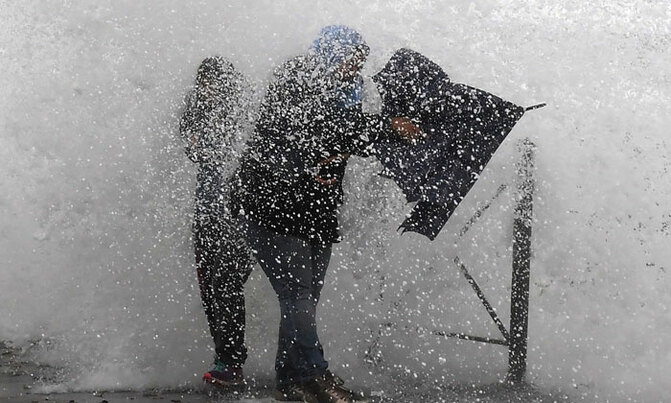 A selection of the best news pictures from around the globe in the past week.
OCTOBER 10 - 16: THE WEEK THAT WAS

As usual, a lot happens every week all over the globe. But since we cannot exhaust all that on this page, and let alone have that much time to do so, we've picked a select lot of pictures to illustrate the kind of week that is now part of our recent history . . .

No, this is not a scene from a movie. It was an action-packed week as South African anti riot policemen fired rubber bullets during running battles at the Witwatersrand University in Johannesburg last Monday. Student protesters and police clashed in renewed violence in Johannesburg as attempts to re-open the university descended into running battles on campus. Protesters throwing rocks were dispersed by riot police using tear gas, rubber bullets and stun grenades as pressure ratchets up on campuses across the country over tuition fees.
That very day, masked students entered a building of the prestigious university to disrupt classes in a bid to shut down the campus
Also on Monday, but in a different part of the world, these ultra-Orthodox Jews prayed along the Mediterranean Sea in the Israeli city of Herzliya, near Tel Aviv, during the "Tashlich" ritual. Tashlich is a ritual during which believers cast their sins into the water and the fish, and it is performed before the Day of Atonement, or Yom Kippur, the most important day in the Jewish calendar, which this year started at sunset, the following day, on October 11
The next day, on Tuesday, these Algerian children were snapped playing football in the street in the Bab el-Oued neighbourhood, which is historically known to be predominantly supporting Mouloudia Club Alger (MCA) football team in Algiers, two days ahead of the 100th derby match against their rival Union Sportive Medina d'Alger (USMA). MC Alger and USM Alger may be fierce city rivals from the Algerian capital but they nonetheless share a history intwined with their country's revolt against French colonialism
But the mood was much different the same day in Syria where, in this graphic photo, Jameel Mustafa Habboush, a 13-year-old Syrian boy, received oxygen as he was pulled from the rubble of a building following Russian air strikes on the rebel-held Fardous neighbourhood of the northern embattled Syrian city of Aleppo. Regime ally Russia carried out its heaviest strikes in days on Syria's Aleppo, causing massive damage in several residential areas of the city's rebel-held east
Then on Wednesday, Leung Kwok-hung (C) - known as "Long Hair" - of the League of Social Democrats shouted slogans and ripped up the "831 ruling" before taking the Legislative Council Oath at the first meeting of the Sixth Legislative Council (Legco) in Hong Kong
The same day, these two adult and baby elephants got trapped in a reservoir after having fallen inside when drinking water at a farm in Xishuangbanna, Yunnan province in China. The trio were trapped for more than two days until they were saved in a rescue operation involving helicopters and firecrackers, accroding to the official Xinhua news agency
Locals washed clothes in Port Salut southwest of Port-au-Prince on Wednesday, following the passage of Hurricane Matthew. A week after Matthew tore through the country, many remote areas communities were still left to their own devices. Families with destroyed homes and shattered livelihoods waited and prayed for help
It was windy times that day as Pope Francis's cap was blown up by the wind during his weekly general audience in St Peter's Square at the Vatican
The following day, it was back to the action in South Africa as Students from Vaal University of Technology (VUT) took cover behind mattresses during clashes with South African anti-riot police and campus security at a demonstration in support of the Fees Must Fall Movement in Vanderbijlpark. Weeks of protests at South African universities have targeted tuition fees
During the riots, South African anti-riot police used rubber bullets on students.
Weeks of protests at South African universities have targeted tuition fees -- but students say they are also about racism and inequality in a society still plagued by the legacy of apartheid
This migrant held onto a rope during a rescue operation some eight nautical miles off Libya's Mediterranean coastline on Wednesday. A growing number of people are attempting the treacherous sea journey from Libya or Egypt, after the closure of the Balkan migrant trail route leading from Greece to western Europe
On Thursday, this wave broke on a cliff street at the port of Sete, southern France, as people walked by with their umbrellas during a storm where the wind blows more than a hundred kilometres per hour
That very day, in west Africa, Nigerian Vice President Yemi Osinbajo (R) looked on while his wife Dolapo (C) comforted one of the 21 freed Chibok girls freed from Boko Haram, at his office in Abuja. Jihadist group Boko Haram freed 21 of the more than 200 Chibok schoolgirls kidnapped more than two years ago, raising hopes for the release of the others, officials said Thursday. Local sources said their release was part of a prisoner swap with the Nigerian government, but the authorities denied doing a deal with Boko Haram
Meanwhile, also on Thursday, this man gropped the riverbed as he searched for valuable goods to resale in Jakarta. Indonesia's public debt to gross domestic product (GDP) ratio stood at 33.05 percent at the end of 2015, according to the World Bank
On Friday, Britain's Queen Elizabeth II, viewed a painting of herself by British artist Henry Ward, at Windsor Castle in Windsor, west of London. The painting, unveiled that day, was commissioned to commemorate the Queen's six decades of patronage to the British Red Cross
But it was a charged atmosphere several miles away as these demonstrators chanted slogans and raised flares during a rally in Kiev, Ukraine. Few thousand members of "Azov" civil corps and veterans of "Azov" regiment of the National Guard of Ukraine and volunteers march with torches to celebrate the Defender of Ukraine Day and the creation of the paramilitary partisan movement Ukrainian Insurgent Army (UPA), aimed at fighting for independence against Polish, Soviet and German forces in western Ukraine
And the atmosphere was even more fired up that day as members of the forces loyal to Libya's UN-backed Government of National Accord (GNA) gathered in the coastal city of Sirte, east of the capital Tripoli, during their military operation to clear the Islamic State group's (IS) jihadists from the city. Libya has been ravaged by unrest since the fall and death in 2011 of dictator Mummar Gaddafi and has also seen the jihadist Islamic State group establish a foothold
Also on Friday, US President Barack Obama spoke at a Hillary for America campaign event in Cleveland, Ohio. Obama warned "democracy itself" is on the ballot in November's presidential election, as White House concern grows about the lasting impact of Republican Donald Trump's campaign
The next day, these Indian school children pieced together an image of former Indian president, APJ Kalam during a remembrance event on his 85th birth anniversary at a school in Chennai. Former Indian president APJ Kalam, who played a lead role in the country's nuclear weapons tests, was the 11th Indian President from 2002 to 2007
Still on Saturday, this Palestinian man tossed olives in the air as he separated them from leaves during harvest on October in the village of Dair al-Hatab, east of Nablus, in the West Bank
And in South Africa, women in their traditional outfits took part in the Indoni SA Cultural festival in Durban. The Indoni festival, a three-day feast, showcases traditions of South African provinces and aims to demonstrate unity and the unique diversity of the country
Meanwhile, that day, this Vietnamese villager sat on a boat next to his flooded home in Huong Khe district in the central province of Ha Tinh. At least 11 people have died with several more missing in heavy flooding in central Vietnam, state media said, with tens of thousands of homes completely submerged by water
The next day, on Sunday, this Thai man sat near a message reading "Love Dad" in Thai outside the Grand Palace, where the late King Bhumibol Adulyadej is lying in state, in Bangkok. On his birthday, Thais wore yellow, when he got sick they put on pink, and now that King Bhumibol Adulyadej has passed Bangkok's streets have turned monochrome in a extraordinary display of collective grief. The venerated monarch died at the age of 88 on Thursday, plunging the nation into mourning and leaving a politically divided people bereft of a rare unifying figure
A few days earlier, this Thai woman received a blessing from a Buddhist monk after giving him alms in front of the Grand Palace in Bangkok. Thousands of Thai men and women gather daily in the vicinity of the palace to pray for the late Thai King Bhumibol Adulyadej after his recent passing
The same day, an Iraqi policeman tried on a gasmask at the Qayyarah military base, about 60 kilometres (35 miles) south of Mosul, as they prepared for an offensive to retake Mosul, the last IS-held city in the country, after regaining much of the territory the jihadists seized in 2014 and 2015
And, these members of an evangelic church attended church damaged by Hurricane Matthew, in the commune of Roche-a-Bateaux, in Les Cayes, in the southwest of Haiti. UN Secretary-General Ban Ki-moon voiced distress at the "absolute devastation" caused by the deadly hurricane in Haiti, and disappointment at the little emergency aid reaching the struggling nation
These two Scottish shorthair cats dressed with red hats were pictured during a cat exhibition in Bishkek on Sunday. Cat lovers from Kyrgyzstan, Kazakhstan and Uzbekistan took part in the exhibition
That day, French rejoneadora Lea Vicens lay on the ground after her horse was toppled by a bull during the El Pilar Feria at La Misericordia bullring
And finally, still in sports, Metz's Cameroonian midfielder Georges Mandjeck headed the ball during the French L1 football match Olympique of Marseille (OM) vs Metz at the Velodrome stadium in Marseille
SO, WITH THAT SAID, ENJOY YOUR WEEK AHEAD!