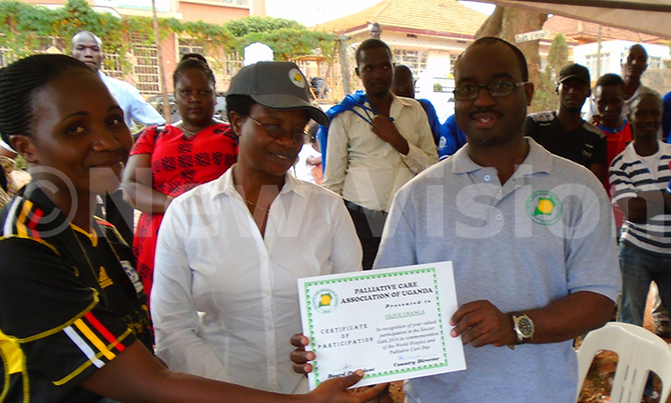 The event was celebrated with a soccer gala, which attracted 16 organisations
Ugandan medical workers have been asked to take the lead in promoting hospice and palliative care in the country. Speaking during the celebrations for World Hospice and Palliative Care Day at Old Kampala Primary School play-ground on Saturday, the Senior Medical Officer at the Ministry of Health, Dr. Jacinta Sabiiti said: "We no longer want to see any patient dying in pain.
Let us all become advocates of palliative care and also take it to those parts of the country where it is not yet available. Let us also inform and educate our people about the available opportunities to access palliative care."
Dr. Sabiiti's message was also echoed by the Country Director of Palliative Care Association of Uganda (PCAU), Rose Kiwanuka and the association's President, Dr. Sam Guma, who asked nurses to be at the centre-stage of promoting palliative care.
The event was celebrated with a soccer gala, which attracted 16 organisations that included Joint Clinical Research Centre, Joint Medical Stores, Reach Out Mbuya, Mulago Nursing School, Hospice Africa Uganda, CoRSU Rehabilitation Hospital, Infectious Diseases Institute, Prefa, TASO, Mildmay, Ministry of Health and journalists.
Mulago Nursing School were declared as the champions after beating Infectious Diseases Institute, 1-0. Kawempe Home Care took third position while Reach out Mbuya emerged as the best disciplined team. Rosemary Namwanga, the goal-keeper of Hospice Africa Uganda was declared as the best female player. The sports gala ran under the theme: Living and dying in pain: It doesn't have to happen.