Leah Kagasa, 21, reigns supreme as she takes the reins as new Miss Uganda.
"Mirror, mirror on the wall, who's the fairest of them all?"
Now that was exactly, well uhm so to speak, the same question on everyone's mind Saturday night at Kampala Serena Hotel's Victoria Mall. And the answer was soon got as Leah Kagasa beat all to the Miss Uganda 2016/17 beauty crown.

It was her poise, confidence and intelligence that landed her the coveted tiara on a colourful night.

The 21-year-old student of marketing, who hails from Kabarole in western Uganda, took the reins from Zahara Muhammad Nakiyaga.

Her closest challengers were 20-year-old Charlotte Kyohairwe (first runner-up) and Ritah Ricky Mutoni, 22, who finished as the second runner-up.

So now that she has secured the crown, Kagasa's first major assignment will be to represent Uganda at the Miss Wolrd competition due in December in the US.

If you missed the event, no sweat. We've got you covered with this array of selected pictures from the night . . .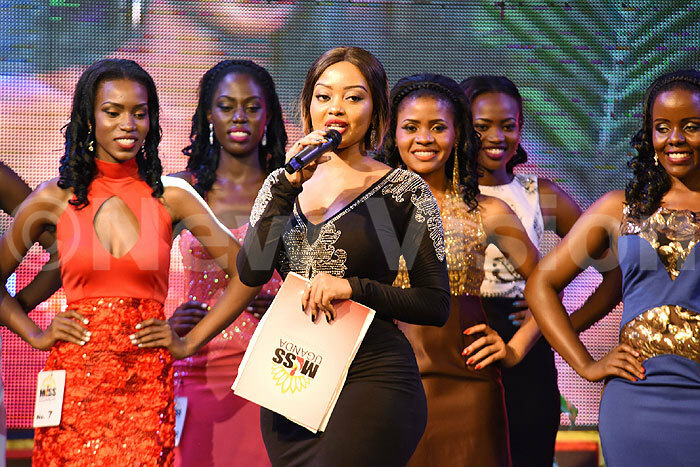 Anita Fabiola, the host the night, looked elegant in her gorgeous black body-hugging dress
The judges, from left: Doreen Kahangwe, Joan Mirembe, former Miss Uganda Sylvia Namutebi and Elizabeth Kyomugisha-Mushabe
Eventual winner Leah Kagasa had the Contestant No.18 tag, and she flashed her pearly whites as she did the catwalk
Musician Naava Grey (real name Asha Naava Zziwa), who represented Uganda in season three of Tusker Project Fame in 2009, entertained the crowd
One of the contestants on the runway. Doesn't she look gorgeous! . . . Oh Uganda, the land of beauty!
The judges had followed the girls all the way from the boot camp right to the grand finale
Flaunting what mama gave 'em! Not bad at all . . . makes for great viewing!
From left: Dokolo district Woman MP Cecilia Ogwal, Miss Uganda organizer Brenda Nanyonjo and MC Mariat Nasasira
Here, judge Sylvia Namutebi, who is a former Miss Uganda, addresses guests and contestants
Newly-crowned Miss Uganda Leah Kagasa poses with first runner-up Charlotte Kyohairwe and second runner-up Ritah Ricky Mutoni
And so it was a case of beauty handing over to beauty as Zahara Muhammad Nakiyaga crowned her successor who waved elegantly, like a queen of course, to the crowd
From then on, it was warm congratulations from everyone, including MP Cecilia Ogwal, who herself is a former Miss Uganda of the 1960s
Well, they all gave it a shot but there could be only one winner
There were several other winning categories and Leah Kagasa was also named Miss Popularity
It was a night of elegance, fashion and creativity!
Oh, it was also a night of, you guessed right, selfies . . .

Wow, what lovely roses on the table, don't you think? :)

A selfie a day, adds delight to a lady . . .