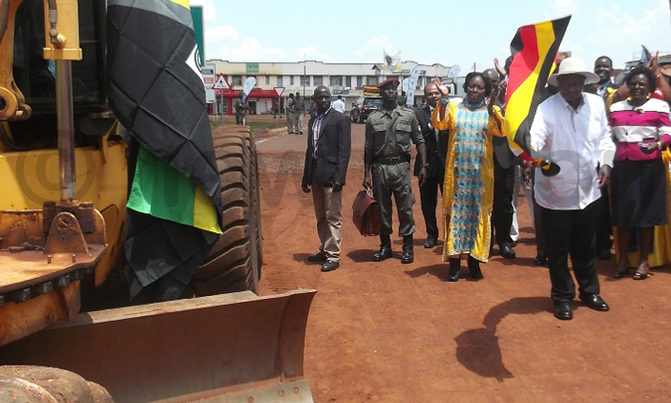 The 58km Kamuli-Jinja Highway, which cost sh79b was constructed between December 2010 August 2011
Presdent Yoweri Museveni has lauded the new Uganda National Roads Authority (UNRA) team for the excellent work they have done since they assumed office by identifying and weeding out the menace of the corrupt officials, to saving the taxpayer's money.
Museveni said unlike in the past where former UNRA technocrats showed less value for the money allocated to the roads, the new team has showed tangible accountability to the government and the people of Uganda.
The President said he is happy with the stringent action being taken the new UNRA staff, where scores of "thieves" have been unearthed and brought to book for embezzling the funds meant for better roads.
"In the past, the engineers spend thrice the projected figures but we always ended up getting shoddy work. They would spend 30/- for the work that would have cost only 10/-" Museveni, said.
He said the vice is quite unpatriotic and contributes a negative impact in the social and economic sectors.
Museveni made the remarks at Kamuli town round about in Kamuli Municipality in Kamuli district while commissioning the Kamuli-Jinja highway on Friday.
The 58km highway, which cost sh79b was constructed between December 2010 August 2011 by Dott Services, under the supervision of UNRA.
Commenting on the good use of funds, Museveni was pleased that unlike in the past when UNRA contracted consultants to supervise and spent millions on them, the UNRA now employs "resident engineers" on a daily basis until the contract is accomplished.
Museveni also launched the tarmacking of 15.78km of roads and streets in Kamuli town, worth sh40.4bn, being contracted to CHICO a Chinese company.
Under the same contract, it will tarmac roads in Mafubira Sub County and Buyembe Town council in Jinja district.
Speaker of Parliament Rebecca Kadaga hailed the NRM government for transforming Busoga, where people used tractors as buses and took four hours to travel from Jinja to Kamuli.
"I myself witnessed it; we would wait for the tractors to pick us from Jinja Bus Park. I was a member of such rides," Kadaga said, drawing laughter.
The MP for Kamuli Municipality Rehema Watongola urged the community to utilize the new roads profitably in order to minimize poverty at households, for social and economic development.
The Minister for Works, Mary Azuba hailed the government for restoring the glory of Ugandan roads for the betterment of the transport system.
Also present were the Minister for Presidency also Luuka Woman MP, Esther Mbayo, MPs Robert Musoke (Budiope West), Henry Maurice Kibalya (Bugabula South) and former Sate Minister for Foreign Affairs, Asuman Kiyingi.