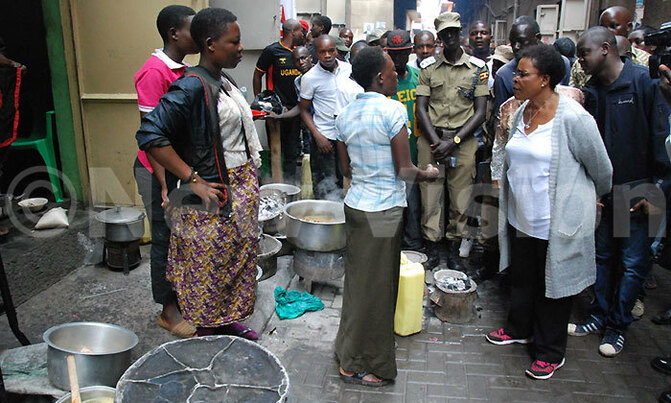 "Why can't the government make it a mandate that all landlords collect rent fees in our currency?"
KAMPALA - Traders operating businesses in Kampala city center arcades have decried what they call poor working conditions under which they operate.

This was during Kampala Minister Beti Kamya's tour of city arcades, street vendors and taxi parks to assess the working conditions.

Kamya accompanied by the State Minister for Kampala, Benny Namugwanya, alongside officials of the technical team of Kampala Capital City Authority (KCCA), started their monitory stroll early Friday.

They were taken around the buildings, where traders showed them stagnant dirty water in front of their entrances which they said may lead to an outbreak of diseases.
The team moved from Kisenyi, a city suburb, then to the Old Taxi Park via container village, Shoprite, Duster Street, Kiyembe lane, William Street, Kikuubo and back at the park where they addressed traders under their several umbrellas including Kampala Arcade Traders Association (KATA), Uganda Tenants Needy and Squatters Association (UTNSA).

UTNSA spokesperson Sarah Kawuma, who operates her business on Magoba Arcade, said they work in fear as their landlords do not give them any tenant's agreements upon taking up space.

"We are also made to pay different money ranging from sh50,000 to 200,000 a month for electricity we use in the arcades yet rent charges are high and our landlords do not provide utilities like toilets. When we try to raise our issues, we are forced to leave our work places," she told the officials.

She added that there is need for the government to put in place a law that regulates arcade owners on the way they raise rent fees.
Sharifah Nantongo, who operates this business unit at Platinum House, explains to Minister Beti Kamya how landlords force them to pay in dollars

Traders said they pay rent fees ranging from sh500,000 and more depending on the size of the room they occupy. They said they also pay for a trade license to KCCA and taxes to Uganda Revenue Authority (URA).

Allan Mutebi, a city trader, said the issue of paying rent fees in US dollars affects them as they pay more money whenever the dollar rates rise.

"We are Ugandans and independent, we operate using shillings. Why can't the government make it a mandate that all landlords collect rent fees in our currency?" he questioned.
Minister Kamya addressed the traders after the tour

Patrick Zirobwe, another trader, said most of the traders leave their operating shops in arcades and sell their things on streets because of the high rent charge.

"Most of the shops in many arcades are empty. If landlords decrease the rent fees, street vendors can leave streets and occupy arcade shops."

On her part, Kamya said that the youth make 70% of the people that work in Kampala, adding that there is need to create a friendly environment for them to prevent them from engaging in unlawful acts.

The KCCA director for public health David Seruka assured traders that the authority is to work hand in hand with the Kampala ministry to see that all their problems are solved.