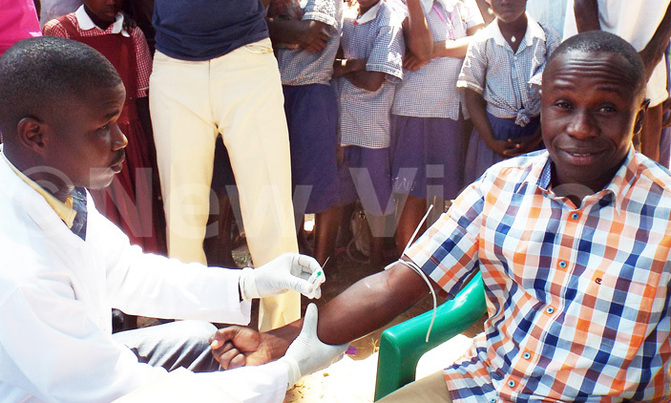 In Odapakol Parish out of 645 who turned for testing, 32 tested positive and four are from one family.
PIC: MP USUk county, Peter Ogwang tests for Hepetatis B at Katakwi Health centre IV. Photo by Felix Osujo

"We have been rejected from this village. Even when i try to go to the trading centre to buy something people just ran away when they see me. Others climb on top of trees while others will just be standing a distance away from me. We don't know what to do because we are being associated with death", said Stella Ipegu, 40, a resident of Omanju- Aswii village in Labori Sub county, Serere District who recently tested positive to Hepatitis B.

She says even when she tries to go to her neighbour who has not tested positive to borrow a matchbox for lighting fire, people run away and she has no one to talk to or even greet.

The same problem is being faced by John Christopher Odeke, 58 a resident of Olep village in Kakuja Parish, Kyere sub county whose four children have tested positive to Hepatitis B. His children study in Teso Progressive Academy, in Ngora District. Odeke is married to four women and is a father to 35 children.

It is not only Odeke and Ipegu who are suffering from Hepatitis B who are facing stigmatization. Several families across Teso are facing the same challenge.

In Katakwi District, 2,937 have tested positive to Hepatitis B since the beginning of the mass testing and vaccination three months ago in all sub counties in the District.

An official from Katakwi Health Department, Philip Odeke told The New Vision that during the ongoing mass testing and vaccination, 30,660 people have turned up.

The Medical Superintendent Katakwi General Hospital, Dr.Emmanuel Oluka said the Hospital has now allocated one day in a week for counselling and conducting routine checks on people who have been diagnosed with Hepatitis B.

"We now have a Hepatitis B day every Wednesday of the week during which we meet, check and counsel people who have been diagnosed with the disease .Not all people who have been diagnosed will need treatment. In fact 99% of those will be handled here in Katakwi General Hospital while those whose condition is bad will be referred to Soroti Regional Referral Hospital", Dr Oluka said.

Katakwi County MP, Hon Peter Ogwang said they will ask government to meet costs of treating people who have been diagnosed with Hepatitis B in Katakwi.

"We are aware that treating Hepatitis B is more expensive than vaccinating people. But as leaders, we are going to request government to foot the cost of treating all those who have been diagnosed with Hepatitis B. I request my people who have been diagnosed with Hepatitis B not to lose hope, we shall ensure you are treated," Ogwang said.

In Serere District, an estimated 430 have been diagnosed with Hepatitis B out of 8000 people who turned for the on-going Hepatitis B screening which is sponsored by the District Woman MP, Hon Hellen Adoa.

"We are still compiling figures because testing and screening is still going on but as of now we have 430 people who have tested positive for Hepatitis B" said Dr Francis Odeke, the District Health Officer, Serere.

He explained that Kateta Sub County leads with the number of people with Hepatitis B, adding that every day; two people are diagnosed with Hepatitis B in Serere District.

"In Opunoi Parish, 410 people turned up for testing and 25 tested positive; five of them from one family. In Odapakol Parish out of 645 who turned for testing, 32 tested positive and again four are from one family. In Kakuja Parish out 502 who turned up for testing, 22 tested positive and four are from one family. In Kagwara Parish out of 380 who turned up for testing 24 tested positive and in Amakio Parish 30 people tested positive", Dr Odeke said.

Serere District Woman MP, Hon Hellen Adoa and Serere County MP, Hon Patrick Okabe pledged to ensure that government delivers drugs for treating people who have been diagnosed with Hepatitis B.

"We have already brought this issue to the attention of government and Parliament and I am very hopeful that the Ministry of health will intervene immediately", Adoa said.

In Soroti,a private clinic; Doctors Plaza Soroti has been conducting free Hepatitis B testing and screening.

An official from the clinic, Benjamin Omagor, told The New Vision that out of 4,052 who turned up for testing and screening, 207 tested positive and those who did not test positive were vaccinated.

Dakabela County MP, Cosmas Elotu asked the communities to go for Hepatitis B testing saying it's the only way to know one`s status.

"This is a deadly disease. But we know that there is a government programme on Hepatitis B testing and treatment. I do not know why Soroti District missed out on this important programme", Elotu said.

Elotu was responding to a concern raised by the Mayor, Soroti Municipality, and Hon Paul Omer who said that recently in Kampala, they tried to raise the plight of the people regarding Hepatitis B vaccination but the minister of health told them to ask people to be patient.

"Will Hepatitis B also be patient?" Omer asked.

In Amuria District, the New Vision has learnt that 568 have tested positive with Hepatitis B. They include 67 from Akoromit sub county, 40 from Abarilela sub county, 35 from Obalanga sub county, 11 from Apeduru sub county and 47 from Amuria Town Council. The District health officials refused to comment.

The status of Hepatitis B in Katakwi District per sub county
| | | |
| --- | --- | --- |
| SUBCOUNTY | THOSE WHO TURNED UP FOR TESTING | THOSE WHO TESTED POSITVE |
| Ngariam | 2884 | 189 |
| Usuk | 2568 | 289 |
| Katakwi | 963 | 187 |
| Ongongoja | 3155 | 281 |
| Katakwi Town Council | 4623 | 468 |
| Kapujan | 2572 | 263 |
| Toroma | 3645 | 355 |
| Palam | 3816 | 345 |
| Magoro | 2981 | 292 |
| Omodoi | 2453 | 267 |
| TOTAL | 30,660 | 2,937 |

In April 2014,government announced that it had earmarked $11m (about sh2.7b) to conduct immediate massive vaccination in 11 districts with the highest prevalence rate of Hepatitis B as legislators cautioned that inability to conduct countrywide vaccination might see the disease degenerate into an epidemic.

The 11 districts included Gulu, Kitgum, Lira, Arua, Adjumani, Yumbe, Moyo, Kasese, Ngora, Bukedea and Amuria.

In many of these districts, Hepatitis B prevalence rate is over 20% of the population - a figure higher than the national HIV prevalence rate which hovers around 7%.

What causes Hepatitis B?

Hepatitis B is a viral infection that attacks the liver and can cause both acute and chronic disease.

The virus is transmitted through contact with the blood or other body fluids of an infected person.

More than 686,000 people worldwide die every year due to complications of hepatitis B, including cirrhosis and liver cancer 1.

Hepatitis B is an important occupational hazard for health workers.
However, it can be prevented by currently available safe and effective vaccine.

The disease is caused by Hepatitis B virus and is prevalent mainly in Asia and Africa - with a raging pandemic in China.

The virus is transmitted by exposure to infectious blood or body fluids such as semen and vaginal fluids, while viral DNA has been detected in the saliva, tears, and urine of chronic carriers.

Medical evidence suggests that many people infected with Hepatitis B and manage to access the very expensive combination of palliative drugs tend to become carriers after developing immunity to the disease.

However, just like HIV/AIDS, this category of people continues to infect others unknowingly either through unsafe sex, unsafe blood transfusion or sharing sharp objects.

Dr. Richard Lukandwa, a consultant physician at Nakasero hospital in Kampala says Hepatitis B is a viral disease that's highly infectious - much more than HIV.

The Hepatitis B virus can survive outside the body for at least 7 days. During this time, the virus can still cause infection if it enters the body of a person who is not protected by the vaccine.

The incubation period of the virus is 75 days on average, but can vary from 30 to 180 days. The virus may be detected within 30 to 60 days after infection and can persist and develop into chronic hepatitis B. It can also be transmitted sexually.

3.5 million Ugandans (10%) are living with chronic hepatitis B, with the highest infection rates in Karamoja (23.9%), Northern Uganda (20%), West Nile (18.5%) and western region (10%). Hepatitis B (HBV) is responsible for 80% of all liver cancers in Mulago hospital.

In the past two years the ministry of health had indicated that funding for fighting the epidemic was an unfunded priority requiring 30 billion shillings. However, the fight received enormous allies in the members of parliament on the committee on health.

In the policy statements for Ministry of health for the FYs 2014/15 and 2015/16, the ministry requires 29.5 bn shillings for emergency response towards mitigating the Hepatitis B outbreak in the country. This is to cover immunization for both children and adults. In the budget for FY 2015/16, a 5bn shilling was earmarked for this cause.