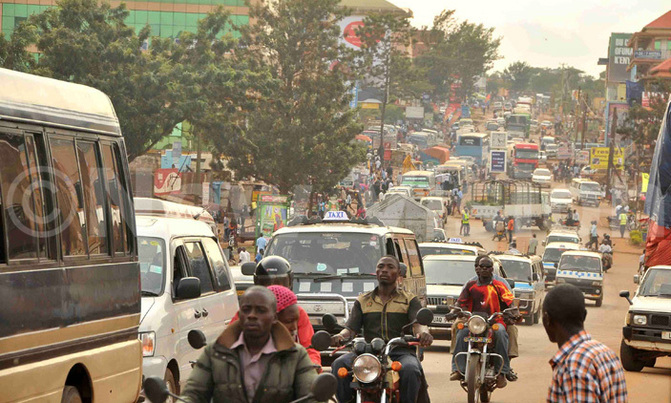 "We used to take only 15 minutes from Mukono to Kampala, from 15 we went to 30 minutes, to an hour and today in the morning and evening more especially on working days it takes between two-three hours. That has greatly affected us," Nambooze said.
Mukono Municipality leaders have experienced a fall in businesses resulting from the heavy traffic flow in the area.

Mukono Municipality Member of Parliament, Betty Nambooze Bakireke says businesses like hotels, schools and rental houses have been abandoned by tenants for Kampala or other convenient areas.

"We used to take only 15 minutes from Mukono to Kampala, from 15 we went to 30 minutes, to an hour and today in the morning and evening more especially on working days it takes between two-three hours. That has greatly affected us," Nambooze said.

Moses Ssonko, the officer in charge of traffic in Mukono Police division said from Monday to Friday, morning and evening, plus some Saturdays, road users cannot escape the traffic jam in Mukono town and Seeta.

Ssonko says taxi drivers and bodaboda riders are the ones who mostly cause traffic jam.

"More especially taxi drivers who are so impatient. They always leave their lanes and drive on the shoulders where some cause accidents which are also a major cause of traffic jam," he said.

Also the heavy trucks that are ever on the highway to and from the coast at Mumbasa are also included among the many causes of traffic jam in Mukono because they are ever heavy loaded and moving slowly.

For the people who leave in Mukono working in Kampala, they have to leave their homes as early as 4:30 and latest 5:00am if one wants to beat the jam.

Ssonko said the municipality is challenged in a way that it only has one highway which is passing through its centre adding that to fight the vice, the government must think of constructing another highway or put in place alternative routes.

"As a way of regulating traffic, we always cause operations arresting illegal drivers including those without driving permits and the ones driving vehicles which are in dangerous mechanical conditions. Those operations reduces vehicles accessing the highway as others also look for alternative subways which enables them access the main highway after passing through the town," he said.

Eva Nakalanzi, a staff of Colline Hotel Mukono told New Vision that the number of workshops from government and non-government organizations they used to host reduced as their clients cited traffic jam as a biggest obstacle.
"They consider delays by the traffic jam as they are coming in the morning and as they leave in the evening. Instead they think about hotels in Kampala which decision leaves us out of business," said Nakalanzi.

Sylvia Nandutu , the director Pherry Junior School in Mukono Municipality said big schools in Mukono have also lost some of their children as their parents got tired of spending over five hours on the road to and from the schools either on reporting or as they close the term for holidays and during visitation days.

"We also find hard times during morning as we collect pupils in school vans and in the evening taking them back. Still traffic jams disturbs us a lot and most of the days these pupils reach school late. Some days parents call us quarrelling because their kids reach home late in the evening but it is because traffic jam," she said.

Madrine Nyumera, a business woman in Mukono town who also owns a restaurant, said during heavy traffic it is so hard for their customers to get a packing to have food or buy merchandise from the supermarkets on the Kampala-Jinja highway.

Mukono Municipality Mayor, George Fred Kagimu said his council noticed with a great concern the outcries of the business community as far as traffic jam in the business centre is concerned.

"We are working hard to increase our revenue base but we cannot be successful as the business community continues to cite traffic jam as unsolved challenge," he said.

Kagimu said the council petitioned Uganda National Roads Authority (UNRA) asking for a partnership through which UNRA will help open and upgrade to standard over six bypasses which they thought will solve the problem of traffic jam.

The Principal assistant town clerk for Mukono Municipality, Alex Nanyonga Sseruwagi named the bypasses as follows; Lweza-Kikooza, Ntaawo-Nakabago, Kauga road, Namumira-Nabuti, Bbajjo-Seeta, Seeta-Lwanda, Kitete and Nakawolole-Kirangira.

Kagimu praised the government for the work which saw Seeta-Namugongo road fully tarmacked, Mukono-Kayunga road and Wantoni-Katosi-Nyenga road which are also under serious construction.
"However, I am afraid that their completion will just add salt into the injury because they will all be bringing more vehicles to the town hence heavy unending traffic," he noted.

Kagimu said they sought it wise to bring UNRA on board in order to solve the traffic jam problem because the money they have for the roads sector cannot enable them fulfil their plan.

He said the Municipality in total has 350 kilometers of the road network but only 50 kilometers are tarmacked adding that the money they get can only allow them tarmac one kilometer of the road to standard.

MP Nambooze wants government through UNRA to tarmac a road from Misindye junction on Seeta-Namugongo road which was constructed recently up to Kiyunga town where it connects to Mukono Kayunga road.

She said if that road is worked upon fully, they can have vehicles from Kayunga branch off using that up to Namugongo instead of reaching Mukono using Kampala-Jinja highway.

Residents speak out

Joel Biriggwa the chairperson for Mukono Taxi Operators and Drivers Association (MUTODA):"The government must think about widening the Kampala-Jinja Highway which is so narrow in its current situation.

It has taken years ever since the government promised to widen the road but in vain. Let the government walk the talk."


Sylvia Nandutu, head teacher Pherry Junior School: "Traffic jam affects us in the education business in a number of ways. It makes pupils reach late at school while ferrying them to school in the morning and back to their homes in the evening. Some parents who used to come from Kampala have also looked for schools from other area which is not good at our side. Let the vice be solved to help us enjoy our businesses."