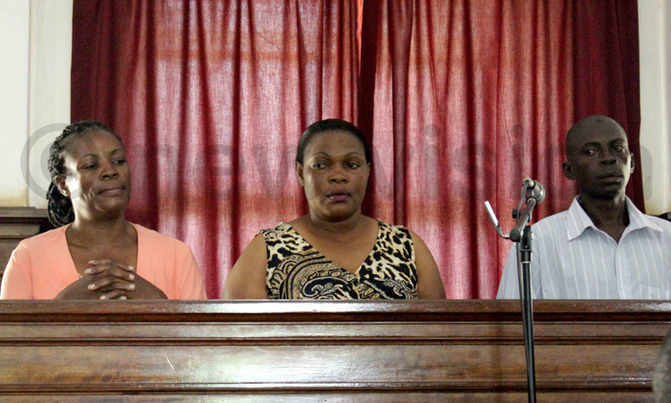 Sarah Nabikolo her cousin Sandra Nakungu and Police officer Ashraf Jaden are battling charges of murder
Court assessors have asked court to convict the widow of slain businessman Eriya Bugembe Ssebunya alias Kasiwukira and her co-accused of murder.
On Friday, John Musana who gave a joint opinion before Justice Wilson Musene, the head of Criminal Division of the High Court, asked court to convict Sarah Nabikolo and her co-accused on grounds that the evidence adduced by the prosecution is sufficient enough to convict the accused. Musana was assisted by Joseph Wasibi.
"According to the evidence adduced in court, we find all the accused guilty of murder and we ask court to convict them accordingly," Musana advised.
The court which is slated to pronounce its judgement on October 12, 2016 may however decide to agree with the assessor's opinion to convict or acquit the accused.
Nabikolo, 62, her cousin Sandra Nakungu, 36, and Police officer Ashraf Jaden, 40, are battling charges of murder. They have spent close to two years in detention at Luzira Prison. The offence attracts a maximum penalty of death on conviction.
Prosecution alleges that Kasiwukira was murdered on October, 17, 2014 at about 6am in Muyenga Diplomatic Zone. He was knocked down by a speeding car as he jogged in the neighbourhood of Muyenga. Kasiwukira was a member of Kwagalana Group.
According to Musana, Nabikolo got involved in the prior planning with her co-accused in executing the murder of her husband.
"While giving her defence, Nabikolo looked not bothered about her beloved husband"
He also relied on the testimony of witness Silver Karimana, 32, a boda boda cyclist in Muyenga Diplomatic Zone who earlier testified that the late Kasiwukira assigned him to monitor movements of his wife Nabikolo and Nakungu, saying that Nakungu takes his wife to witchdoctors, something he could not tolerate.