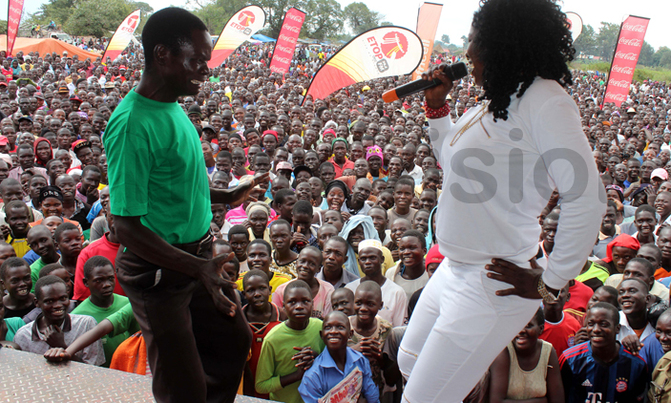 Etop Radio is part of Vision Group's six radio stations across the county
Drama, music from famous Teso artists and prize giving crowned the seventh anniversary of Etop Radio based in Soroti town.
The celebrations were organised with the radio visiting all the markets in Teso sub-region rewarding the listens with a number of prizes.
"We organized market activations to enable us meet our loyal fans and share with them the little we have. Without them we wouldn't be voted the number one radio station in Eastern region" Joseph Akiiso the station manager said.
On Monday Etop was in Bukedea Market where hundreds of people turned up to watch free drama, live performance from artists such as Roga Roga, Chan Lee and Lady Asianut among others.
"I am grateful to Etop Radio for giving me a hoe. May God bless you and enable you continue serving God's people till the day your son Jesus Christ returns to take the church," James Emorut prayed.
Etop partnered with Coca-Cola, Club and Africell who rewarded Etop listeners with goodies that ranged from money, phones, soda and t-shirts.
Akiiso said the event will end on Friday at Ocor Imongin market in Katakwi district with spectacular performances.
Etop Radio is part of Vision Group's six radio stations across the county besides televisions, magazines, website and newspapers.
New Vision remains Uganda's leading daily while Etop newspaper remains Eastern Uganda's number one weekly for 26 years running.
"People are excited because they have been able to meet some of the presenters they hear on air. We have begun well and we hope to end well," said Justus Aporu Akol the promotions officer.
Prior to the Monday events Etop staff was engaged in cleaning excises of Ongino-Kumi Hospital and also partnered with the blood bank to donate blood.