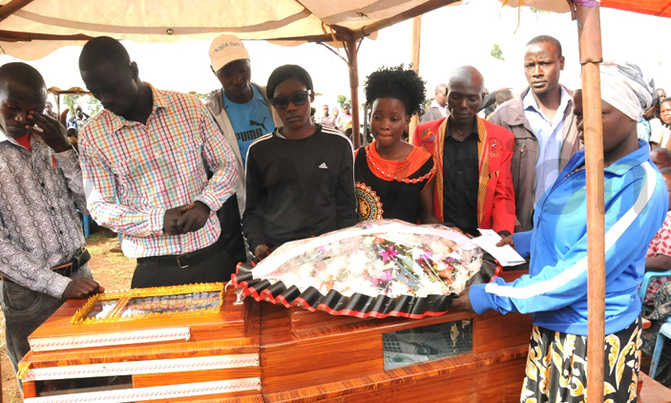 The Kween district speaker Joslyn Chelimo Cherutwo also noted that drugs and idleness was a time bomb to the district
Police is concerned about the rise in murders in the Sipi region, which have left six people dead in less than a fortnight including athlete Alex Kapcheromit Cherop.
Cherop was stabbed to death on Thursday night.
The Sipi Regional Police Commander Musa Nabende requested parents to play their role in the upbringing of children who he said are abusing drugs and alcohol leading to the increased number of crimes in the region.
"We have had so many deaths. Another clan lost four people over a petty issue. This message goes to all parents and political leaders. This is not the work of Police along but all of us. These are our children and let us join hands to fight the habit of our children who are starting to drink early," said Nabende.
He narrated how Cherop met his death; not ruling out a well-planned mission which was orchestrated by Elijah Cheroitich.
"He (Cheroitich) has already confessed on the killing but we are going to investigate further. There are so many questions that are unanswered in this puzzle," he said.
Cherop met his death Thursday as he went back home to spend some time with his one month old son, before flying out to Europe on Monday for a series of races. He was stabbed by Cheroitich with a metallic object to the back of his neck.
According to his brother Leonard Chemutai, who was with Cherop that evening, Cheroitich had bumped into them accusing Cherop of under looking him and slapping him when they used to play as kids.
Cherop then tried to get out of Cheroitich's away but the scuffle attracted a number of people.
"It was resolved by the people and he (Cheroitich) said it was okay. However as Cherop was heading home past by Cheroitich's home, he emerged from his house and stabbed him" said Chemutai.
Cherop's wife Nelly Chemutai said he called her earlier to tell her that he was coming home.
"He called me at 8pm and told me that he was coming home. He even called me at 9pm and told me that he was leaving the centre and I only got a phone call at 10pm from my in-law telling me that he had passed on," she said.
She added that Cheroitich had been one of the family friends and Cherop had always made it a point to train him to become a better athlete including sending him money to go for competitions and giving him training materials and competition kit.
"They had been good friends but for some time he had stopped coming home mostly when Cherop started training in Kapchorwa," she said.
Many believe that Cheroitich had killed Cherop out of envy as he had become successful and he was helping the villagers improve their lifestyle.
"His dream was to emulate Stephen Kiprotich and provide free solar panels to all his villagers. He had started working on it. He was really working hard to see that our village Bugema improves," said Cherop's father Ngozi Kapcheromit.
The Kween district speaker Joslyn Chelimo Cherutwo also noted that drugs and idleness was a time bomb to the district.
"Apart from the heavy drinking, taking drugs is finishing our youths. When they take this, doing everything becomes so easy. Even killing a human being is not difficult to them. We know points in Bugema where these drugs are sold and we are asking the Police to help us arrest the situation which has already gone out of control" she said.
Nabende did not rule out the use of drugs in this incident.
"We are with him (Cheroitich) in the cells but it's as if he doesn't know what happened. We are sure the law is going to take its course," said Nabende.