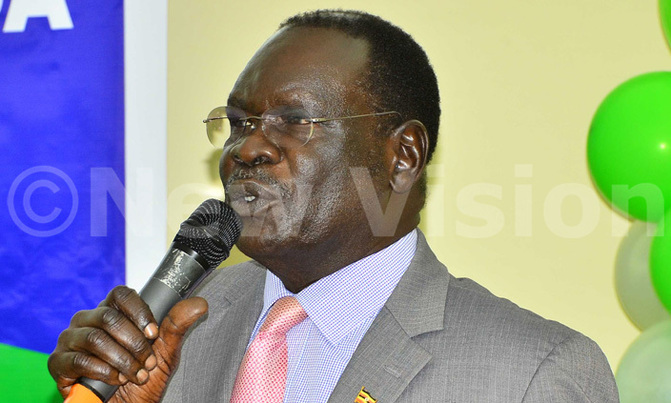 "I was a minister of Internal Affairs and I know what was going on. They fund one camp to fight another..."
PIC: The minister for Disaster, Preparedness and Refugees, Hillary Onek. Photo by Ramadhan Abbey

Civil Society Organisations (CSOs) have been accused of fueling political conflicts and violence in the country.

The minister of Disaster Preparedness, Hillary Onek said some Non-Government Organisations (NGOs) divert from their core activities and start engaging in politics which is unfair.

"I was a minister of Internal Affairs and I know what was going on. They fund one camp to fight another. Let us not push our country into fire to create violence," he added.

Onek said this during the launching of a new Oxfam project dubbed 'Empowering Local and National Humanitarian Actors' (ELNHA) at Golf Course Hotel in Kampala.

Without mentioning names, Onek said many of those involved in fueling political violence have their organisations names attached to democracy and deepening democracy.

He stressed that Uganda has on several occasions refused to bow to external pressure to introduce laws like homosexuality, and now the backers/promoters are working with organizations to introduce it indirectly using political groups to promote it.

"Some funders put conditions emphasizing rights, but whose rights? Uganda is a sovereign state with its laws in place. We have a Parliament and other structures in place. If anybody thinks the law is not fair, they should go to Parliament instead of inciting violence," he said.

He added: "Why would someone go to Owino market and cause commotion in the name of having lunch. Please, we need to protect this country," Onek added.

Onek also said there is no anarchy in Uganda like many people claim. "I was there during Idd Amin's time and saw how people were killed. This is not what we want. We must promote unity and peace to develop this country," he said.

He said no investor can inject his money in a country with conflict.

"How will tourists come here if we have conflicts? We must be mindful in all we do," he added.

In response, the Oxfam's Country Director, Peter Kamalingin said NGOs only engage in policy issues with government though at times they might be misinterpreted.

"You know politics and development go together. But we are not partisan and if any organization is engaged in fueling conflicts then it is wrong. We must desist from being partisan," he said.