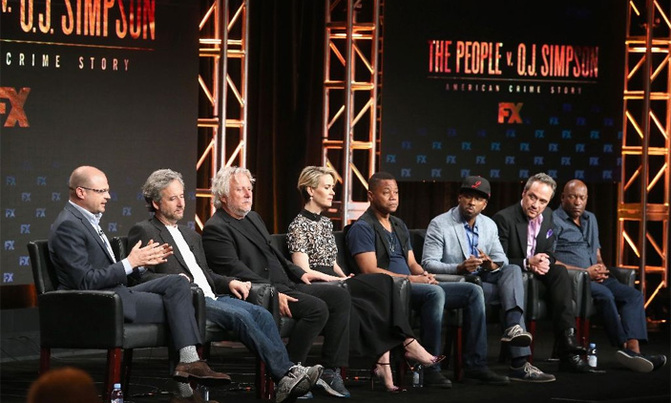 "I've never seen a phenomenon like that, when one crime fascinates America for so long. It's really compelling," said Tom Nunan, a former network boss who now teaches at UCLA's School of Theater Film and Television.
O.J. Simpson's fall from grace became a defining tale of American life -- a story not just of a murder but of race, the media and celebrity in modern culture.

Two decades after the unforgettable climax of the "Trial of the Century," it continues to polarize and seduce TV viewers, with an acclaimed documentary released this year and a drama about the trial set to sweep the Emmys.

The 10-part "The People v. O.J. Simpson: American Crime Story" premiered on FX in February, offering a dramatized behind-the-scenes look at how he was acquitted of murdering his ex-wife Nicole Brown and her friend Ronald Goldman.

Exploiting a growing obsession with true-life crime mysteries, the show pulled in six to eight million viewers each week, with Simpson readying for release next year after being jailed for nine years in an unrelated robbery case.

It was nominated for nine Creative Emmy Awards -- four of which it won -- and is the most nominated show at television's prestigious annual Primetime Emmys on Sunday, with a chance of winning 13 statuettes.

The series focuses on the white female prosecutor convinced of Simpson's guilt and the star's so-called "Dream Team" of lawyers that persuaded the predominantly black jury of reasonable doubt in the 1995 trial.

"I've never seen a phenomenon like that, when one crime fascinates America for so long. It's really compelling," said Tom Nunan, a former network boss who now teaches at UCLA's School of Theater Film and Television.

The show's Emmys recognition comes with American audiences feasting on a flood of true-crime series revisiting apparent miscarriages of justice.

Wall-to-wall coverage

Netflix has announced a second season of its headline-grabbing "Making a Murderer" while September sees the broadcast of no fewer than three documentaries about the 1996 killing of six-year-old pageant star JonBenet Ramsey.

Meanwhile, Disney-owned ABC has commissioned a pilot for "The Jury," described as a cross between 1957 courtroom drama "12 Angry Men" and NPR's record-breaking investigative podcast "Serial," which is credited with starting the trend.

But the Simpson case was the biggest of them all, says Nunan, combining celebrity, murder, race and wall-to-wall TV coverage in one of the biggest reality spectacles in history.

The saga is even credited with paving the way for modern reality TV shows following the likes of Kim Kardashian, whose father, attorney Robert Kardashian, is played by David Schwimmer in "The People v. O.J Simpson."

"I'm not aware of any American crime story that has drawn this degree of scrutiny, of dramatization. I wouldn't be surprised to see a Broadway or another adaptation, because our fascination seems to be endless," Nunan said.

There were various dramatizations nearer the time of the trial, including Fox's 1995 TV movie "The O.J. Simpson Story" and the CBS miniseries "American Tragedy" in 2000, but none had the impact of this year's TV offerings.

ESPN's award-winning "30 for 30" strand made the story the subject of a five-part documentary, "O.J.: Made in America," in June which went meticulously into the background of the case.

Drawing upon more than 70 interviews from detectives as well as friends and colleagues of Simpson and other observers connected to the case, it attempted to uncover powerful truths about race and culture in modern America.

Resonant

The series, which came too late for this year's Emmys, goes into the history of police brutality against African Americans in Los Angeles, including the beating by four officers of unarmed driver Rodney King after a high-speed chase.

The officers were acquitted, which sparked the LA riots of 1992 in which 55 people died.

"There was a lot in there that most of us didn't know about, including a lot of testimonies from jurors confirming what many people thought, which is that most of these jurors were penalizing the LAPD for the way they dealt with Rodney King," said Nunan.

Nick Higgins, the documentary's cinematographer, started out doubtful that anyone would still be interested in the case but came to realize that "Made in America" was as much a story about the US today as it was a courthouse saga.

"You can't help drawing parallels with what's going on now (with) American race relations, the fact that they havent changed in three or four decades," he told AFP.

Bob Thompson, head of Syracuse University's Center for Television and Popular Culture, said the FX series and the ESPN documentary would be particularly resonant to a generation less familiar with Simpson but all too aware of the racial tension stoked by recent police shootings on unarmed African Americans.

"One story after another has developed the idea of strained relationships between urban police departments and people in the community," he told AFP.

"The O.J. story touches so much of that stuff."