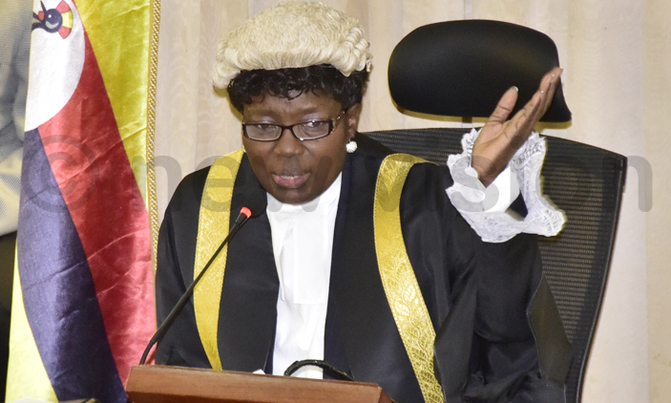 Speaker Rebecca Kadaga proposed that members and Parliament as an institution should sue media houses until they collapse
Tempers flared in the Parliament chambers as MPs on both sides of the house accused media houses of publishing damaging stories aimed at tarnishing their image.
The MPs complained that the media has of recent launched a well-organized campaign "possibly funded by an invisible hand" to incite hatred against Members of Parliament and the institution in general.
Quoting a number of stories that have recently run in the media and also made rounds on social media, the Speaker of Parliament Rebecca Kadaga complained that some of the journalists were misusing the freedom of the media to write what she called irresponsible and malicious articles.
"Of recent, there has been a deliberate attack on the parliament and members of parliament. We have seen screaming headlines that Parliament took 78 MPs to UNAA yet they were only 26, MPs to get sh200m cars, Parliament to spend sh68m on MP's burial, such articles are intended to ridicule and put the image of parliament into disrepute," she complained.
Kadaga defended the members saying as officials of government, they are entitled to brand new cars, decent send-off which they had to budget for.
"I am putting the media on notice that if this kind of reporting continues, we shall summon editors to come and explain what they have published and apologize to Parliament," she said.
Her statement however seemed to have opened a can of worms, with members calling for tough rules on media.
MPs Nandala Mafabi, Jacob Oboth-Oboth, Dr. Chris Baryomunsi, Peter Ssematimba and Annet Nyakecho demanded for an investigation of the "invisible hand" behind the "bad publicity".
"We should investigate who is fuelling bad publicity to demonize parliament. The author of the book of Galatians if he were alive, he would ask "who bewitched you Ugandans that what does not matter is what matters and which does not, is what matters," Oboth said sending colleagues into laughter.
Baryomunsi suggested that the Parliamentary Commission should come up with stringent guidelines which stipulate what should and shouldn't be published about Parliament.
Some MPs such as Anifa Kawooya, Odonga Otto, Jalia Bintu encouraged members not to shy away from their entitlement.
"Government banned the purchase of second hand cars. New cars go for sh400m or sh500m. Why are we shying away from talking about this? We should actually be given sh500m," Bintu said.
Kawooya however used the opportunity to complain that while Parliament budgeted for coffins for members, they forgot to budget for Muslims.
"We need this burial money but my problem is that the Muslims were left out. How about the welfare of our relatives that we were looking after?" she asked.
Mafabi however complained about the high costs of caskets saying government should ban the importation of expensive coffins and encourage the use of locally made coffins.
"Death is inevitable and I pray that it does not happen. But why are we importing coffins?" he asked.
MP Otto citing the example of a case where Kadaga sued a local newspaper and was awarded over sh200m, said Parliament should spend money and sue every media house that publishes wrong articles.
In her ruling, Kadaga proposed that members and Parliament as an institution should sue media houses until they collapse.
She also directed the chairman of the rules committee to investigate the publications and charge them with contempt of Parliament
She however also cautioned members against talking to Journalists.
"Some of you MPs talk a lot, commenting on things you don't understand, you should stop it" she said.