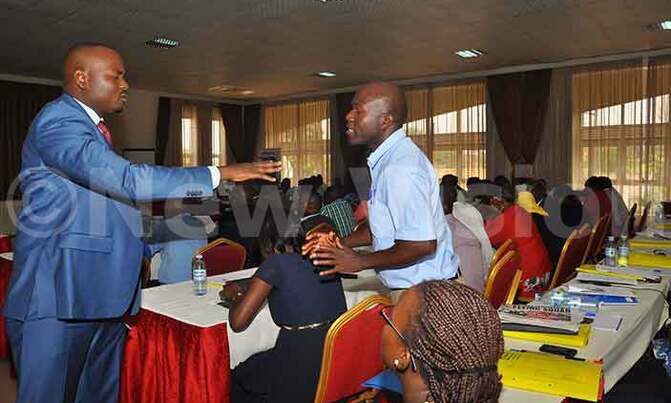 The civil society under the umbrella of Civil Society Budget Advocacy Group urged government to tackle bottlenecks impinging on effective and efficient service delivery
PIC:The State Minister in charge of Micro Finance Harunah Kyeyune (left) talks to Henry Kityo Sekamanya after the opening of regional budget consultative meeting at Hotel Brovad in Masaka district. Photo by Francis Emorut


The state minister in charge of micro finance, Haruna Kyeyune, has clashed with the civil society actors and resident district commissioner (RDC) of Kiboga over poor service delivery. This was during the regional budget consultative meeting on the national budget for financial year 2017/2018 at Hotel Brovad in Masaka district.

The civil society under the umbrella of Civil Society Budget Advocacy Group urged government to tackle bottlenecks impinging on effective and efficient service delivery.Henry Kityo Sekamanya who presented a position paper for the civil society hit at the district leaders for encouraging shoddy work, abetting corruption which has hampered service delivery.

Sekamanya outlined concerns of civil society among them understaffing, lack of transparency and information in the procurement process, limited access to justice and inadequate sanitation facilities.

On under staffing he said key personnel such as teachers, health workers and extension workers are still understaffed citing Kalangala district which has only one anesthetist yet it has two operation theatres.
"Some of those employed are still grappling with the issue of delayed and inadequate salaries," Sekamanya said.He also accused the district officials of Sembabule for doing shoddy work and not involving communities in supervision and monitoring.

The civil society activist cited a collapsed bridge at Lukaka, Kahububbu villages and lack of clean water facility in Butokata stream where residents fetch water in Sembabule district.

On corruption the civil society want the culprits arraigned in court.

"The law should take its course and the culprits should be brought to book and measures should be put in place to prevent corruption," he said.The civil society highlighted recommendations among them increasing on staffing levels, government should expedite the process of setting up salary review commission to harmonise salary disparities and facilitate local government staff to deliver on their mandate and others.

The civil society was backed by Kiboga RDC Dickson Nuwagaba who criticized government for not getting its priorities right."We don't have an open forum to discuss issues affecting the citizens but are good at politicizing everything," Nuwagaba said.

He cited the Youth Livelihood fund where government selects 15 youth in each district to access the fund but have no idea of any business ventures."Let's be realistic. We can't achieve the middle income status by 2020. We have left the population behind," he said.

Nuwagaba's remarks prompted the minister Kyeyune to spring up saying the blame game should not be tolerated and accused the RDC of being disrespectful which attracted booing from the audience who said the President's representative was speaking the truth.

"By you criticizing the President's proposal is a serious offence," Kyeyune said as he was booed.

The minister also took a swipe on the civil society accusing them of having only one eye which sees only bad things.

Kyeyune urged district leaders to improve on service delivery reminding them of President Yoweri Museveni Hakuna Muchezo slogan for his fifth term and be mindful of working towards achieving the middle income status