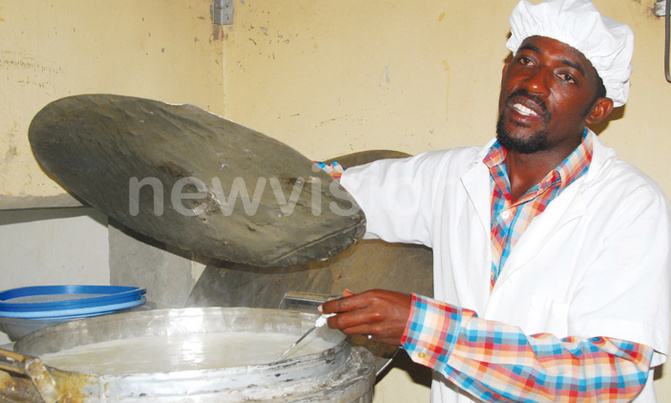 It all started in 2011, at their kitchen counter, when his wife, Flavia Muhindo, a nursing nutritionist, extracted milk from soya, for her babies.
'There are two benefits of failure,' goes the saying; 'first, if you fail, you learn what does not work; and second, the failure gives you the opportunity to try a new approach.'

That is how 32-year-old Umar Nkonge opted to make soya yoghurt, following his experience of poor sales from soya milk.

It all started in 2011, at their kitchen counter, when his wife, Flavia Muhindo, a nursing nutritionist, extracted milk from soya, for her babies.

"Diary milk was quite expensive, and I was trying to find a way to reduce our expenses without compromising the babies' diet. I knew soya milk would be the perfect replacement. I did not want to buy it, so I experimented by using a blender," Muhindo narrates.

And she was right. They spent considerably less on soya milk compared to dairy milk.

After a few months of watching her extract soya milk, Nkonge decided that they could go commercial, which they did in 2012 under Ufah Group Limited.

He turned his car garage and an adjacent bedroom into a production site and made a list of the basic items he would need. A soya milk extractor, an energy saving stove, manual sealer and a deep freezer, among others, would cost him over sh20m.

Nkonge could only raise sh14m. So, he approached three friends; Faisal Kiyingi, Alfred Lule and Shafi Ali. Together, they pooled sh30m.
They started production and distributed the milk to a few supermarkets. However, the sales were low.

"People do not know about soya milk. The milk would go bad in fridges in supermarkets and shops. Besides, most shop owners switched off their fridges in the night and the milk would eventually go bad," Nkonge recalls.
But the partners were not about to give up. In November last year, they decided to make yoghurt out of soya, and the sales are picking up. They still make soya milk, but only on order.

THE PROCESS

The process is manual, right from collecting the milk from the extractor to sealing the packs.

For starters, they use the type of soya seed from Lira district, because other types are best for oil extraction, not milk. The soya beans are soaked in hot water.

"The vapour emitted significantly rids the beans of the soya aroma," Nkonge explains.

The soya beans are then manually fed into the bowl-shaped part of the extractor. A stream of water keeps running over the seeds as they are ground.

A marshy residue is ejected from one side of the extractor into a bin. The milk comes out of another outlet and into a bucket. The milk is filtered over a muslin cloth and then poured into a saucepan fitted in an energy saving stove.

ENERGY SAVING

"This stove uses charcoal worth sh3, 000 to boil 150 litres of milk, which would have otherwise required charcoal worth sh10, 000," Nkonge explains.

This stove has three compartments. At the very bottom, the stove is oven-like, with a rectangular tray that can be slid in and outwards, and holds the burning charcoal.

Above the charcoal is a huge saucepan where water boils and produces steam to boil the milk in the saucepan above it.

Nkonge says he uses steam after learning that direct heat burns the soya milk, leaving it with an unpleasant odour.

As the milk boils, he occasionally moves the lid to measure the temperature.

"We let the milk boil up to 900, and leave it to cool for about 20 minutes, and then we add stabiliser and sugar to make the yoghurt.
The stabiliser helps thicken the yoghurt. In case we are making milk, we add pasteurisers at this point, cool it, and pack it," Nkonge notes.

MANUAL FERMENTATION
For the yoghurt, Nkonge cools the mixture to between 450C and 550C in a bucket. He then adds live cultures and closes the lid.
It stands for about 18 hours, after which flavour is added.

Ufah Group makes vanilla and strawberry yoghurt. The ingredients are the same as the conventional yoghurts, the only difference being the soya milk.

PACKAGING
The yoghurt is packed and sealed with a machine, handled by two people. This way, they pack about 150 pints in an hour.
Nkonge preparing the soaked soya beans
The packets are then chilled in a freezer awaiting distribution. A 350ml pack costs sh1,500 in the supermarkets and sh1,200 at the plant.
For sh800, one gets the 250ml pack from the plant which costs sh1, 000 at the supermarket. The yoghurt lasts a month refrigerated.

FIGURING OUT THE MARKET
Ufah distributes the yoghurt to different supermarkets using motorcycles, because they use less fuel compared to a car.

"We distribute in Mukono, Wakiso, Masaka road and Mityana Road. We target supermarkets because they usually have standard refrigeration facilities. Also, in a supermarket, the customer has the chance to pick what he wants," Nkonge explains.

He adds that in retail shops, when a customer asks for yoghurt, the retailer may just pick any brand from the cooler.

But in a supermarket, the customer picks and reads and decides whether or not to try out the soya yoghurt. He says they strategically place the soya yoghurt near other yoghurt products.

Nkonge's innovative switch into soya yoghurt has paid off. They sell about 2,000 packs of yoghurt a week, making monthly profits of about sh6m. For the milk, they only make between 50 and 100 packs.

THE TASTE
If you grabbed a pack of soya yoghurt from a fridge and sipped on it, you may not realise it is soya until you read the label.
But an ardent yoghurt taker would perhaps tell, due to the slight taste of soya. It is rich and creamy, just like regular yoghurt.

CHALLENGES
During the rainy season, Nkonge says, the sales plummet. Further, the taxes are exorbitant. He says small companies like Ufah should get tax waivers.

"We are taxed just like the established companies and I find it unfair. For example, we are required to regularly take our product samples to the Uganda National Bureau of Standards for safety and quality checks, but we are charged sh70, 000 for each sample. We have five products and that is quite expensive," Nkonge laments.

THE FUTURE
Nkonge says he has always dreamt of a business that he would pass on to his children and this is it.
They are in the process of acquiring bigger premises and in the future, they plan to automate the process by acquiring an automatic sealing machine.

BENEFITS OF SOYA MILK OR YOGHURT

1. Flavia Muhindo, is a nutritionist, explains that unlike dairy yoghurt, one can enjoy soya yoghurt without worries of excess weight gain.

2. It has more protein content. It contains a complete protein of all essential amino acids and minerals, particularly calcium, which is great for bone health. 2

3. It is good for the lactose intolerant babies and even adults. Muhindo says soya yoghurt contains easily digestible lactose.
3
4. Soya yoghurt is cholesterol-free, hence reducing the risk of cardiovascular disease in adults. In people with diabetes, soya yoghurt helps control blood sugar levels.

5. The nutritionist also notes that in men, soya yoghurt may help reduce the risk of prostate cancer. She says it also helps to moisturise the skin.


HOW IT WORKS
1. After extracting and boiling the soya milk, it cools, and then the stabilizer and sugar are to make the yoghurt. Live cultures are added at 45-55 degrees.

2. It is then covered and left for up to 18 hours. The appropriate fl avours are then added.

3. The yoghurt is packed and sealed, ready for distribution on the market.