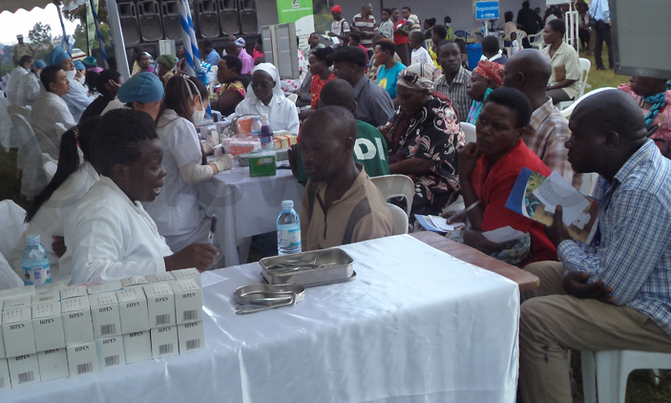 At least 1,000 people from Kibaale, Kagadi and Kakumiro received treatment
Over 1,000 Patients from three Districts of Kibaale, Kagadi, Kakumiro received free medical treatment at a medical camp hosted by the Chamber of Chinese Enterprises in Uganda in partnership with Kibaale district health department.
Zhang Weidong, the general manager of China Communications Construction Company (CCCC), said the medical camp was aimed at preventing and treating various illnesses such as respiratory tract infections, malaria, intestinal infections, delivery complications, skin diseases, eye diseases and complications related to HIV/Aids infections.
"Our main target is to prevent and minimize health complications among the populace especially to patients in rural areas who are unable to access good health services" said Weidong.
He said at least 1,000 people from Kibaale, Kagadi and Kakumiro received treatment and promised to continue providing other Health services in the three Districts.
"The China Communications Construction Company limited was contracted by the government of Uganda represented by the Uganda National Roads Authority (UNRA) to construct the 107km Mubende-Kakumiro-Kibaale-Kagadi Road and has been committed to its brand development strategy and technology innovation.
The company is further fulfilling social responsibility, benefit the community and also raise the local community's awareness of common disease prevention" said Ding Jianming, the CCCC national manager.
Dr. Dan Kyamanywa, the Kibaale district health officer said the health department from the three districts has been helped in reducing the big number of patients especially from the rural areas that have been travelling long distances to get medical services from inadequate health centres.
He added that the free drugs for the treatment of malaria, dental complications, respiratory tract infections, intestinal worms, skin diseases and eye complications is a big contribution to both health departments and community.