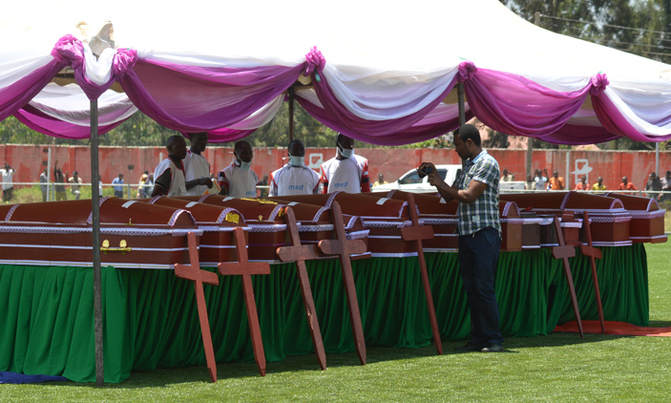 More than 800 buildings have been destroyed, including 44 public ones
Coffins of the people killed by the earthquake at Kaitaba Stadium in Bukoba before burial service. AFP Photo
At least 16 people died and 253 were injured in a 5.7-magnitude earthquake that struck northwest Tanzania and was felt throughout the Great Lakes region, local authorities said Sunday.
As rescuers scrambled to find survivors from Saturday's quake, Tanzanian premier Kassim Majaliwa headed to the worst-hit city, Bukoba, to attend a ceremony at its stadium.
"This tragic event is unprecedented. We've never known this in our country," he told mourners. "The government is with you. It will not abandon you."
President John Magufuli, who is from the region, said he was "deeply saddened".
A group of 15 boys at a secondary boarding school in Bukoba district are believed to be among the 16 dead and 253 injured, according to Salum Kijuu, governor of Kagera province where Bukoba is located.
More than 800 buildings have been destroyed, including 44 public ones, Kijuu told AFP.
Across the border in Uganda, an unknown number of homes have also been razed by the quake which struck at 1227 GMT at a depth of 40 kilometres (24 miles) in the region near Lake Victoria.
In the Ugandan village of Minziro in the district of Rakai, residents appealed for help on Sunday, describing terrifying scenes of rocks crashing down nearby hillsides.
"I am sure the government can't reconstruct our houses but in the meantime it can aid us with construction materials for tents," victim Masembe Remegio told AFP.
Earthquakes are fairly common in the Great Lakes region but are almost always of low intensity.
Tremors across the region
The quake's epicentre was 23 kilometres (15 miles) east of the northwestern Tanzanian town of Nsunga, in Bukoba district, and was felt in Rwanda, Burundi,Uganda and Kenya, the US Geological Survey said.
Bukoba city suffered widespread damage, with 270 houses destroyed and electricity disrupted, the Red Cross said in a statement.
Its main hospital was stretched to nearly full capacity and had limited stocks of medicine.
"Telecommunications have been disrupted and we are trying to get a clear picture of the damage to hospitals and other essential infrastructure," Andreas Sandin, Red Cross operations coordinator in East Africa and the Indian Ocean Islands, said in a statement.
No damage was reported in Tanzania's economic capital, Dar es Salaam, which is located some 1,400 kilometres southeast of Bukoba.
In Rwanda the shaking was felt across the country, with hotel staff and half-dressed visitors seen rushing out of their rooms in the capital, Kigali, when the quake struck.
In Burundi's capital Bujumbura, the president's spokesman Willy Nyamitwe tweeted: "I just felt an earthquake at 1429."