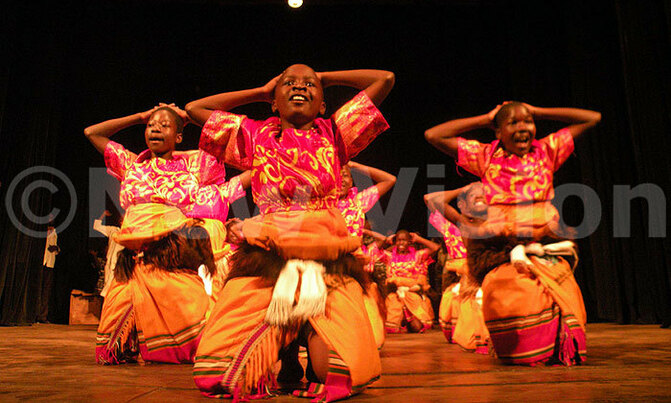 The young performers communicate that such issues are a catalyst of poor education performance.
PIC: Pupils of St. Andrews Primary School performing the Nalufuka dance, from eastern Uganda. (Credit: Lawrence Mulondo)

KAMPALA - Dressed in different stage costumes, pupils of different schools went onto the stage and strongly criticized child marriages and poor nutrition in schools and homes through powerful performances.

In their messages, the young performers communicated that such issues are a catalyst of poor education performance in schools.

This was on the fifth day of a one-week annual national music festival for primary schools taking place at the Uganda National Cultural Centre (UNCC).
Abbey Isabilye, a Primary Three pupil of St. Andrews primary school, performs

The festival is organized every year by the education and sports ministry and is seen as a co-curricular activity complementing classroom teaching.

This year's show, also supported by UNICEF, ran under the theme 'Stop Child Marriage and Poor Nutrition for Quality Learning/ Violence'.

Performances include drama, poems, songs and traditional dances created around the reigning theme.
Performers from Bushenyi Parental Care primary school in Bushenyi district do a skit titled 'Dare not miss'

Pupils entertained a filled auditorium and one of their messages was that if schools feed them well - on a balanced diet - their performance at school can improve.

All the performances highlighted the dangers related to child marriages, as well as solutions to help stop the practice.

The school festival is expected to be closed by the state minister for primary education Rosemary Seninde on Sunday.

Centurio Balikoowa, the national co-coordinator for the festival, said 43 best schools from 18 regions of the country are being represented.
Pupils of Victoria Primary School in Namutumba district recite a poem on poor nutrition in schools