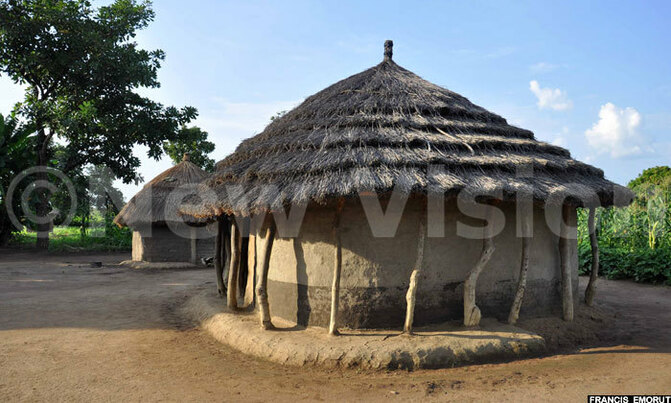 One argued that people living in grass-thatched houses are promoting backwardness and that they should embrace modernity.
Are grass-thatched houses backward and not fit for humanity?

That's the subject that saw the general secretary of National Organization of Trade Unions (NOTU) clash with an environmentalist activist during a meeting in Kampala.

Africa Kiiza, an official from SEATINI argued that people living in grass-thatched houses are promoting backwardness and they should live in modern times.

National Association of Professional Environmentalists (NAPE) senior programme officer Geoffrey Kamese also weighed in, saying a grass-thatched house is not a good facility for people as you can't use electricity in it.

"Energy is a critical source for humanity. You can't develop using charcoal and firewood," he said in reference to what rural folks use for cooking.
NAPE senior programme officer Geoffrey Kamese. (Credit: Francis Emorut)

Such comments drew reaction from NOTU boss John Oprong.

"Grass-thatched houses are made out of local materials and not imported ones and you are saying this poverty?

"A grass-thatched house is cool and when you drink water kept in the pot, it is as cold as the one in the fridge," he shot back.

And to consolidate this argument, Oprong (pictured immediately below) cited grass-thatched structures erected in recreational places like hotels as an expensive choice of accommodation.
This exchange happened during a Kampala meeting on seeking solutions to development inequalities. It was organized by Society for International Development (SID) and SEATINI.

On 'rolex' (eggs rolled in chapatti) as one way of promoting tourism in Uganda, Kamese laughed it off, saying Uganda has become a laughing stock.

"It's a very unfortunate means of pushing our services," he talked of a delicacy named by CNN as the fastest growing new African fast food.

On the proposed land amendment mooted by government to acquire land for development without compensating the owner, Oprong warned that such a move is dangerous as it would force people to defend their land.

He advised government to construct a railway line along the Express Highway instead of buying another land for the railway infrastructure.
A neat grass-thatched structure at Ndere Centre in Kampala. (Credit: Francis Emorut)

Makerere University senior lecturer Prof. Mwambusya Ndebesa agreed, saying it would ease transport for passengers commuting from Entebbe to Kampala and also shorten the period of starting the railway project.

During the meeting, John Bosco Byanzi, a business development officer at Uganda National Chamber of Commerce and Industry observed that land ownership by top government officials has now been used as a way of hiding stolen funds from the public coffers.

Rebecca Akello, a participant, pointed out that in order to address inequality development, there should be political will and commitment. She said there is income inequality and labour laws need to be revisited.

On proposed land amendment, Bulamogi County MP Kenneth Lubogo advised participants that the amendment land bill has not yet been tabled before Parliament and therefore, no cause to worry.

An on the Operation Wealth Creation (OWC) intended to fight poverty, Lubogo said a system needs to be developed to track how funds are being utilized.

"Over sh1 trillion is channeled for wealth creation but I don't see anything in my village. How can you give 10kgs of seeds to 700 people? We need to take on government on how it uses expenditure."