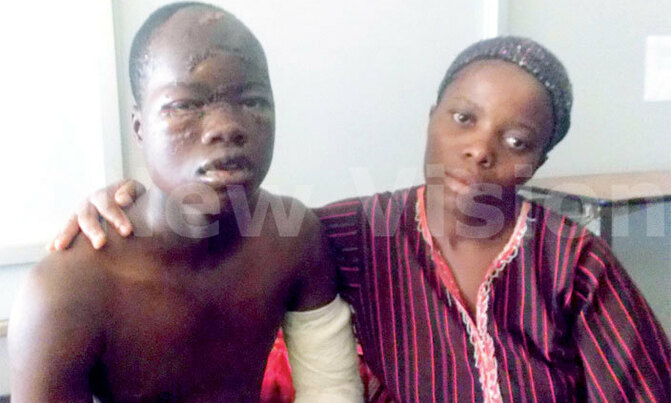 Mustafa Lule, 20, jumped from Mabirizi Complex and crashed onto a vehicle parked on Kampala Road in the city centre.
The man who jumped from the top of Mabirizi Complex in an attempted suicide has expressed shock at how he escaped death.
His mother, Amatu Namakula has also said she is surprised that Mustafa Lule jumped from that height and only broke his left arm.
Lule, 20, said he had had many problems to the point of feeling desperate and wishing he was dead.
Namakula requested well-wishers to help her with money to look after her son. She said they need sh450,000 to pay a head scan.
On Friday, Lule went to the top of Mabirizi Complex on Kampala Road, removed his shirt before he jumped, crashing into a car parked along the road.
However he now says he has cancelled his plan to committing suicide, saying he has realized that God still wants him alive.
Lule says he had told his mother about his problems and plans to commit suicide and that his mother was not bothered.
He said the reason he went to Mabirizi Complex was because he had worked on the same building some time back.
Lule said he was suffering since his mother had no money to even pay school fees for him. He dropped out of school and got a job which he lost when his employer went abroad.
He added that what hurts him the most is that his father has the money to look after people who are not even his relatives, but cannot take care of him.
Lule asked for forgiveness from Ugandans as well as the owner of the car onto which he fell and damaged.