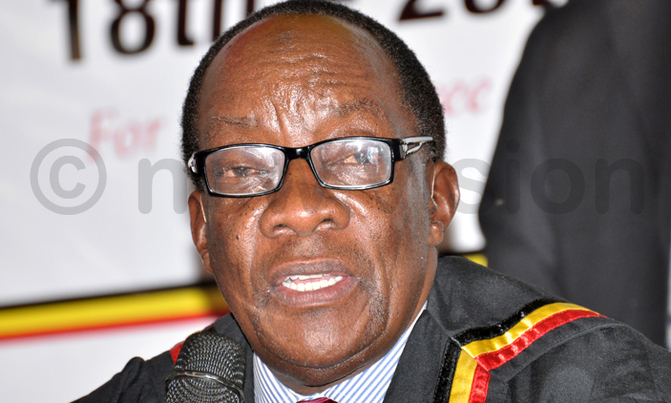 Eng. Badru Kiggundu's term of office will expire in November this year
"When someone does something good, we should learn to appreciate them while they are still alive because service is no easy task and if anything, challenges are expected to always tag along," said Eng. Badru Kiggundu the Electoral Commission (EC) chairperson.
He was speaking at a dinner organized by the Turkish embassy and Always Be Tolerant (ABETO), in honour of the Electoral Commission for successfully conducting the 2016 General Elections.
"We really feel honoured to be appreciated in an ambiance of friendship rather than adversary for the first time in ten years of service" Kiggundu said.
"We have been accustomed to invitations where we are lectured, bashed, grilled and opposed simply for doing our work. Sometimes we are caught between confusion because even those we are accused of favouring are equally rough with us" he added.
Kiggundu however said that such challenges have not stopped his team from being as transparent as possible even under very tough conditions.
"I left greener pastures to come and work for EC but such is the calling for service so I am proud of being a quasi-judge. In all this, the point I am making is that we should not out rightly object to service, we should always think again about the positive side of what has been done for us," Kiggundu observed.
He claimed that in as much as many politicians oppose his services publicly, they secretly turn to him for assurance that electoral processes will be transparent.
"Even those people, who have accused me of all sorts of things publicly, come to me. Actually many people were frightened at what will happen after the elections but because we managed to handle everything well, some opposition politicians have come to me to appreciate" Kiggundu said.
President Yoweri Museveni appointed Kiggundu to head the Commission in November 2002, replacing Hajji Aziz Kasujja.
His term of office will expire in November this year. The law allows for only two terms of office that are non-renewable for electoral commissioners.
Kiggundu oversaw the 2005 referendum, the 2006, 2011 and 2016 general elections, however in the 2006 and 2016 election petitions to the Supreme Court the EC was accused of partiality in favour of the ruling National Resistance Movement.
Kiggundu said that the electoral process in Uganda has been improving over the years so people should participate more in the entire election cycle if they want to keep track of the exercise for transparency.
"Building solid democracy will take us more years than we think but I also think that we have improved a great deal so people should continue engaging in these processes because it's the only way of opening windows for improvement," Kiggundu noted.
On her part, Sedef Yavuzalp the Ambassador of Turkey said that there is need for all players to emphasize the value of democracy in social transformation and development.
"The recent elections are worth celebrating because of the positive signs for example the many candidates who took part. Building a democracy takes much more than we think so we need to work harder and create avenues for continuity" she said.
Kiggundu she added should be part of the process to spot another person that will further the good work so far done.