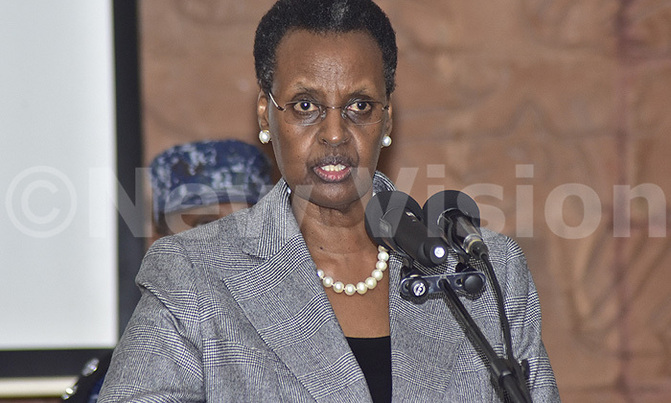 Various ministries will work together to stop the distribution of inappropriate literature in schools.
By Sarah Kisakye

KAMPALA - The education ministry is to work hand-in-hand with fellow ministries of ethics and integrity, justice, ICT and national guidance to agree on how to put a stop to the distribution of comprehensive sexuality education materials in Ugandan schools.

This message was delivered by education minister Janet Museveni, while speaking to stakeholders in the education sector during the 23rd annual education and sports sector review workshop in Kampala.

She said the material comes in undercover and investigations are under way to make a thorough analysis of their origin.

The crackdown on "obscene" literature follows media reports that students in some private schools in the city where found with books containing literature on sex – books are unsuitable for primary school pupils.

One such publication was identified as 'Love Lessons' by British children's author Jacqueline Wilson.
MINISTER JANET MUSEVENI'S FULL SPEECH

Hon Ministers
Members of Parliament,
Ambassadors and High Commissioners
The Education Service Commission Chairman and team
Our Partners in this sector and other various sectors
Educationists and stakeholders
Distinguished Ladies and Gentlemen,

Good morning to you all and welcome to the 23rd Education and Sports sector review 2016. The aim of this meeting is to review where we are coming from and ideally it should also inspire us to the onward journey to where we want to go.

Therefore, today we come here with a lot of expectations, those of us who are new in this sector hope to gain some new insights, those who have been here need to get some spirit of revival in the course of this review exercise. And it is my sincere hope and prayer that the time you will spend here will not be business as usual.

Therefore, in order to give us a sense of direction I thought that I would remind this meeting by providing a background of where Uganda's education sector is coming from and what it has had to deal with in Uganda's recent history.

First, the Governments that led Uganda after Independence had a very small population to deal with and did not consider expanding the country's infrastructure or the service delivery processes to extend to our people in rural communities instead the country continued to survive by the thread of the bare minimum that had been put in place by the colonial Government for the 9 million people which was the population at that time in the 1970's.

When Amin's Government came in and started the decrees that threw out the Asian community which brought the original shocks to the small economy of our country and closed some of the Aga Khan schools, then that is when the skeleton of the service delivery system started slowly being shut down. While the population grew and multiplied, the schools remained the same.
What those Governments would do instead was to re-name a primary school with a secondary school label and disown the primary segment forcing the community to find their way out in housing the former primary school.

Therefore, by 1986 with Uganda's population that had more than doubled that of 1962, with the schools that had remained the very ones that were at Independence. In short, the NRM Government had a crisis on its hands, yet the crisis was not just of Education as a sector alone. The national total revenue at that time was 5 billion shillings in our treasury and all the other Government sectors were just on their knees as the one of education. You realize the crisis of the education sector was to try and fill the gap of the needed classroom space to accommodate the population of pupils at school at that time.

However, when the NRM Government opened the door wider to all Uganda's children to access Universal primary and secondary education, then the education sector challenges became monumental.

Nonetheless, I believe it is now true to say that every new season in this country brings this Government ever nearer to the closing of the gap between the population of pupils, the classroom space and teacher pupil ratio. That is where we stand today to say that we celebrate all those who strived with us as we struggled to get where we are and now we need a new "Re-aligning of school governance and management towards quality education".

When we have this very rich background we must realize that surely the challenges we have now are nothing compared with where we came from. I can honestly dare say that the largest giant of a challenge we have today is indiscipline and selfishness that make people misappropriate the resources meant for Government work which we will now have to fight and try to plug those holes so that all the resources we get in our budget serve the purposes of this sector. Because when we mourn the fact that we have a declining budget and yet when we get a grant to provide the same service we require from our budget, we fail to utilize it, then that proves that our challenges mostly lie elsewhere.

Targets for the next five years
Let me try to summarize what the sector would like to consolidate from the gains that have been made in the many years of NRM's strategic objectives.

Pre- primary and primary education sub sector
1. The Policy is being reviewed to streamline and strengthen the regulation of Early Childhood Education and to make this sub sector sensitive to the biological, physical and mental growth needs of our children and also address the emerging challenges at Pre- primary level.
2. School feeding
There has been a general disconnect between the Ministry of Education and the families of pupils on this point of feeding the children at school. However, now our Ministry is set to undertake a nationwide awareness creation campaign on the role of parents in educating their children which include the responsibility of parents feeding the children as this policy demands in the education Act 2008.

3. Salary enhancement for primary teachers
This is another challenge which the education sector has been struggling with over the last few years but I am happy to inform you that the salaries of all primary teachers have been increased by 15% which will be the last installment in Government's commitment to increase teachers' salaries by 50% in a phased manner. For this, an additional sh122b has been provided in the current FY 2016/17 budget. However, in order to justify these salary increases Head teachers and teachers must now desist from absenteeism, late reporting and early departure from work. This is what we need to focus on in the effort to improve governance and management of schools.
Secondary Education Sub-sector:
1. The Education sector is set to adopt a new Lower Secondary School Education Curriculum under the Curriculum, Assessment and Examination Reform Program (CURASSE).

The CURASSE program is set to be mainstreamed in 2018 and is currently undergoing a consultation process to harmonize the curriculum with as many stakeholders as possible across all the levels of education and political leaders.

2. Government continues with the policy of establishing a government secondary school in every sub-county and a UPE school in every Parish. This program will be scaled up in FY 2017/18 according to our proposed planning for that programme.

3. There has been the challenge of teachers' houses also because of similar problems that had affected schools. But now we have an on- going programme that provides teachers' houses. This program started last financial year and we will continue to build on those annually.

4. We shall introduce a continuous assessment to be part of the examination at secondary school level to mitigate the current high stakes in final examination which has led to examination malpractices.
5. Following the recent recruitment and deployment of head teachers and deputy head teachers, the challenge has remained on the lack of science teachers therefore, we shall now focus on recruitment of science teachers in the medium term starting next FY 2017/18.

6. We shall also continue promoting e-learning and computer literacy in order to enhance learning outcomes and contribute to innovations in the industrial developments.

Teacher Education and Instructor Training:
1. The Ministry recognizes the important role teachers play in any vibrant education system and as such we are in the process of developing a National Teacher Policy to guide entry into the teaching profession, recruitment, training, continuous professional development and teacher code of conduct.

2. We have started on a program to rehabilitate and expand all the five National Teachers Colleges.

They are now at various levels of implementation as we shall see from the field report. For PTCs a similar program will soon be developed but for now we have introduced awards which will be given to the best performing PTC and a second one to the second runner up in order to motivate these teacher training colleges.

Business, Technical, Vocational Education and
Training (BTVET)
1. Special attention is paid to BTVET to address the technician level skills gaps in the economy and skilling school leavers, graduates and unemployed youths.
To date, 90 districts have at least a BTVET institution but government policy is for all 112 districts to have a BTVET Institution in the short run before we target the constituencies.

2. The sector is to promote collaboration between BTVET Institutions and the private sector especially industries to facilitate acquisition of practical knowledge and skills.

3. We are to establish a Skills Development Agency to cost effectively and efficiently train in Skills that are critical for social and economic development.

Higher Education and Training Sub-sector:

Government operationalized three new Public Universities of Lira, Soroti and Kabale effective July, 2016 as part of Government's commitment to increase access to Higher Education and Training


2. The Universities and Other Tertiary Institutions (UTOA) Act, 2001 is being amended to pave way for the establishment of Makerere University Business School (MUBS) as an independent degree awarding institution.

3. Government has already released funds for Wage for the first Quarter FY 2016/17 to all the Public Universities. These funds include the component for enhancement of salaries for both the Teaching and Non-Teaching Staff.

4. The program to re-train and re-tool unemployed graduates lacking the requisite vocational/market skills will be operationalized in the medium term.

Sports Sub-sector:
1. Modern nations recognize the need for sports as a vital part to a healthy nation. Competitions and medals are additional motivators to enhance physical health and specialization. Therefore, we at the Ministry of Education and Sports appreciate the role of sports in the health and wellbeing of our country and we are dedicated to promote sports for that matter.

2. In that respect, we shall continue to train teachers for Physical Education, including sports science training for teachers every year.

3. In the same effort to promote sports is the construction of a sports facility in Kapchorwa, the High Altitude Athletics Centre (HAAC). The construction is scheduled to commence this FY 2016/17.

As I conclude, I think it is necessary to mention the new problem that has come up which is now a national concern on the foreign teaching labeled "Comprehensive Sexuality Education". These foreign instructional materials came in under cover and presently the Ministry is trying to make a thorough analysis of their origin, but most importantly, the Ministry of Education has to work hand in hand with the relevant Government Ministries like Ministry of Ethics and Integrity, Ministry of Justice, Ministry of ICT and National Guidance to agree on how to put a stop to the distribution of these materials in our schools.

Finally, let me take this singular opportunity to recognize with appreciation the contributions (professional, financial and material) made by various Education Development Partners, the Private Sector and all other stakeholders towards attainment of the set education and sports policy objectives and targets in Uganda.

I look forward to your continued partnership with Government as we embark on the implementation of our new targets (outlined above) for the next five years and beyond.

It is now my pleasure to declare the 23rd Education and Sports Sector Review Workshop 2016 open and I wish you fruitful deliberations and God's blessings!

Thank you for listening to me!
h