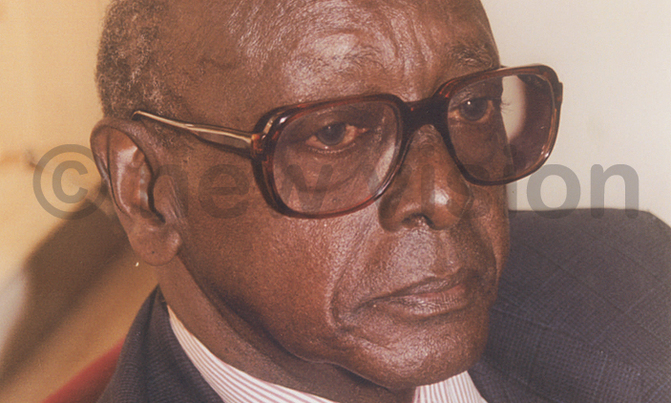 There will be a requiem mass at Rubaga Cathedral on Tuesday
Sir Adrian Sibo, the former Uganda Human Rights Commission (UHRC) commissioner in charge of the finance and administration department has died.
Information from Sibo's family shows that Sibo died on August 26th. He is survived by a wife, Anne, and children. There will be a requiem mass at Rubaga Cathedral on Tuesday August 30th and burial will take place at his ancestral home at Shozi in Kisoro district.
According to information from UHRC, Sibo had a wealth of experience having served as; a district officer in various districts in Uganda. He also worked as an assistant secretary, principal assistant secretary, undersecretary, and permanent secretary.
Sibo has also worked as a general manager in parastatal organisations and was a Member of Parliament. He served on numerous boards of companies such as; East African Airways, National Insurance Corporation and Mombasa Water Board.
Described as a man of high integrity, Sibo also served on the Boards of; Alliance Air, Centenary Bank and Uganda Martyrs University Council. Commissioner Sibo is the head of the Finance Committee of the Commission.
Together with other Commissioners, Sibo participated in tribunal hearings of UHRC. Owing to his vast experience in administration, Sibo helped a great deal in administration matters at the Commission.
His special area of interest was conciliation, which is carried out a great deal by the Legal and Tribunals Department. He also oversaw compilation and appraisal of projects of the Commission.
He graduated from Makerere University College straight from St. Mary's College Kisubi in February 1951 on admission for a four-year Bachelor of Arts (General) degree offered by the University of London.
He thereafter proceeded to London University and Oxford University, for postgraduate courses. He also holds a certificate in Human Rights & Humanitarian Law.
He was later admitted at London University for a postgraduate course for one year, 1957-1958. Subsequently, he was further admitted for another postgraduate course for another year, 1961-62, at St John's College, Oxford.
These courses were selected and paid for by the Government of Uganda.