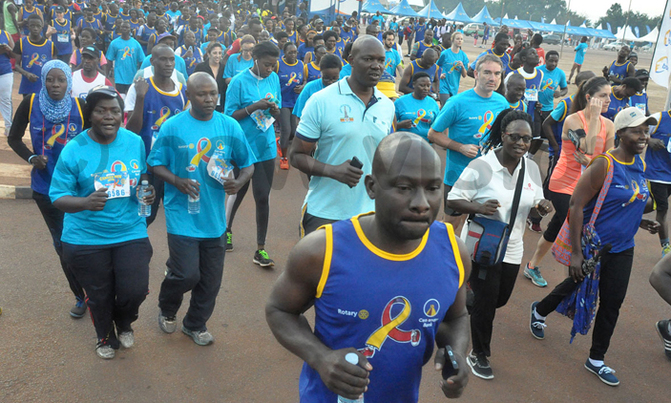 Prince David Wasajja flagged off the 5, 10 and 21km races
Thousands of enthusiastic runners converged at the Kololo Ceremonial Grounds on Sunday to participate in the annual Rotary Cancer Run aimed at raising money to buy a linear accelerator machine.
A linear accelerator (LINAC) is the device most commonly used for external beam radiation treatments for patients with cancer. The linear accelerator is used to treat all parts/organs of the body.
Prince David Wasajja flagged off the 5, 10 and 21km races which attracted children, students, corporates and Rotarians.
Wasajja urged the public to continue donating with a kind heart which they showed towards the 5th Rotary Cancer.
He was speaking at the climax of the event flanked by the centenary bank CEO Fabian Kasi, the newly rotary governor elect Kenny Mugisha and Stephen Mwanje the founder and also the initiator of the cancer run.
"I'm so delighted with this turn up today, I urge all the people who participated to continue with this gesture; thank you for sparing your time to come and run for charity," Wasajja said.
General Katumba Wamala was one of the notable prominent persons among thousands of participants including from different rotary.
Unlike past editions of the run, this year's run was held concurrently with similar runs in other districts of Masaka, Soroti, Mbarara, Kabale, Jinja, Tororo, Lira, Busia, Arua, Kanungu, Entebbe, Gulu, Kyenjojo, Bushenyi and Masindi.
The chairperson organizing committee of this year's event Lydia Bujara confirmed that the turn up country wide was a success.
"I think we have achieved our target because people registered in big numbers," Bujara said.