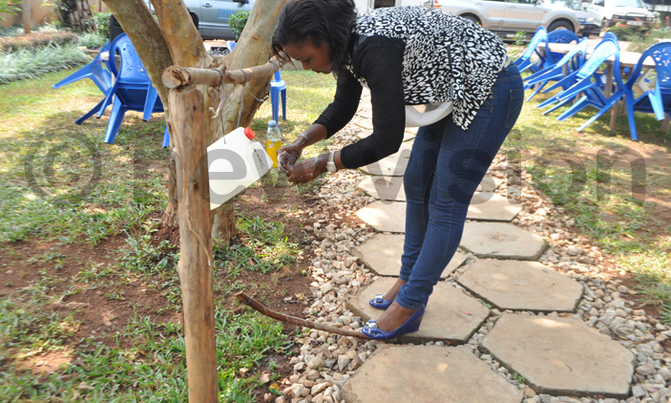 Current statistics show that only 33.2 % of the population wash hands with soap
Despite majority of Ugandans having knowledge on hand washing, a big percentage does not take it into practice.
Current statistics show that only 33.2 % of the population wash hands with soap after visiting the toilet or latrine.
This translates to only 3 out of every 10 people washing hands with soap. In 2007 only 14 % of Ugandans were washing hands after using the toilet.
Speaking ahead of the Global Hand Washing Day the national coordinator SNV-Netherlands Development Organisation Robert Otim stressed that, hand washing with soap tends to be undermined and yet it is the cornerstone of public health adding that every year Uganda losses 750,000 children and most of them die before reaching the age of five.
He challenged the water sector to innovate sustainable hand washing technology options. Currently some communities use tippy tap hand washing method. The Tippy Tap is a simple device for hand washing with running water. A 5 litre container with a small hole near the cap is filled with water and tipped with a stick and rope tied through a hole in the cap. As only the soap is touched with the hands, the device is very hygienic.
The communications and knowledge management advisor International Water and Sanitation centre Lydia Mirembe added that although 65 % of the population has access to safe water, a small percentage wash hands with soap after using a toilet or latrine.
Research has proved that hand washing with soap can reduce the incidences of diarrhoea by close to 50% and pneumonia to 27%.
The public health officer at the ministry of water and Environment Martin Akonya said this year's Global Hand Washing Day will focus changing attitude, making hand washing a norm and the celebrations will take place in Kamuli on the 15th of October.
He said the main objective of the celebrations is to raise awareness and understanding the importance of hand washing with soap as an effective and affordable way to interrupt the faecal oral route.