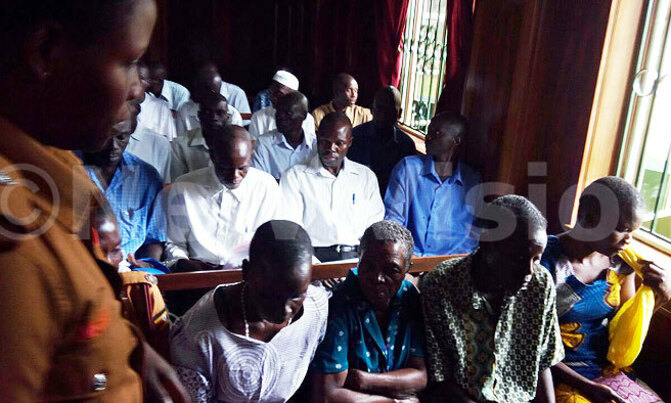 High Court Judge Wilson Masalu Musene handled the hearing.
KAMPALA - As the first session of mitigation of death sentence of the 30 convicts came to a close at the criminal division of the High Court criminal division on Thursday, 18 of them who were lucky to be heard first breathed a sigh of relief, after court saved them from the hangman's noose.

Following a Supreme Court directive on a Susan Kigula petition against the death sentence, Justice Wilson Masalu Musene reduced their sentences, stating that the cases were not the rarest to warrant death.

The convicts are now set to start serving a new jail term ranging from seven to 18 years.

The 18 are among the 30 death row convicts whose files went missing during the first mitigation of the death sentence of 417 convicts, including Susan Kigula.

The remaining twelve will have their pleas heard on September 26.

They are represented by Justice Centers Uganda (JCU) through its Prison Decongestion Programme.

(All photos by Betty Amamukirori)
Some of the convicts were seen here settled in court earlier on Thursday, awaiting the start of the hearing. While some dropped their faces, many of them looked anxious. But the one seated second from right (front) appeared to have spotted a familiar face nearby inside the filling court.
The Supreme Court ruled that it was wrong to sentence someone to death without mitigation (hearing their side). It ordered the return of all pending death row appeal cases to the High Court for only mitigation of sentence.
It was a full courtroom on a fairly warm Thursday morning in Kampala.
The lawyers are from Justice Centre Uganda and were contracted to handle the mitigation for the convicts. A number of death row convicts have previously been released due to their long stay in prison and others had their death sentences reduced to life imprisonment.
Justice Wilson Masalu Musene handled the plea hearing.
Two of the convicts were seen here standing in the dock.
Isaiah Wanamama, a senior state attorney representing the state.
Death row inmates whose sentences were already confirmed by the Supreme Court must be executed within three years and if not, the death sentence be deemed converted to imprisonment for life without remission - which is 20 years.
Two of the convicts, a father and son, were sentenced to 10 years each for the death of two people in Kumi district. They are Okia James, 46, and Omasike Calvin, 60. They have so far spent 16 years in prison: three on remand and 13 on conviction.
Omasike on the left and Okia wearing white. They each got ten years for killing two people.
Convicts Dira Patrick and Wandera Bosco are seen here in the dock for murder committed in Mbale district. They have so far served 16 years behind bars. They were sentenced to 14 years for a robbery that led to death of one person.
Isaac Wokoye (left) and Naphtali Baguta in the dock over aggravated robbery. They have so far served 13 years in jail.
Here, 60-year-old Baguta consulted with his lawyer Frederick Mbaziira from Justice Centre Uganda. The duo was senetenced to seven years.
Silaj Mulwani committed murder at the age of 19 and has served 20 years on death row. Court resentenced him to 10 years.