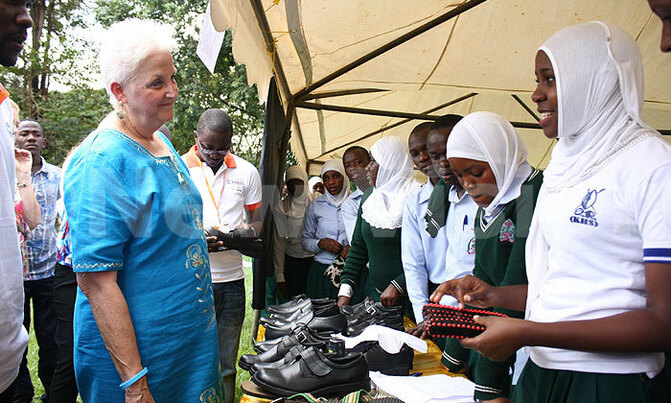 "A career in farming is both rewarding and prosperous, and doesn't just mean spending time working in the field."
KAMPALA - The US ambassador to Uganda Deborah Malac has asked young people in Uganda to embrace farming as a way of fighting youth unemployment.

Agriculture remains one of the untapped opportunities by the youth for economic empowerment, she said.

"A career in farming is both rewarding and prosperous, and doesn't just mean spending time working in the field. Young people can develop careers in finance, marketing, logistics and many other areas that support agriculture production, and help add value to products, develop the economy, and create jobs for thousands more young people."

Through its program, "Feed the future, Uganda youth leadership for Agriculture", the US embassy is trying to leverage Uganda's enormous potential in agriculture by supporting agricultural programs by the youth in different districts in Uganda.

Speaking during the annual National Youth festival at Makerere University, ambassador Malac said it is the responsibility of the youth to create employment opportunities for themselves for the development and nature of the Uganda they want to live in.
"The jobs, the prosperity and the opportunities that you seek, none of them are going to appear magically before you," she told a large audience.

"No one, not your government, the United States, or anyone else, is just going to hand them to you. You will have to work for them. The changes you want to see in Uganda can only come about through your own dedication and commitment."

Citing Emmanuel Odama, a Ugandan youth who recently earned worldwide recognition when he introduced US President Barack Obama at the Young African Leaders Initiative (YALI) conference in Washington, Malac described the youth in Uganda as industrious and full of potential.

To realize their potential, she however said there is need to address challenges such as corruption, quality health care and education, which she said undermine service delivery in the country.
There was also time for a groove as Buikwe Woman MP Judith Babirye sang. On stage was also musician Bobi Wine and Kasese Municipality MP Robert Centenary Bwambale

On his part, Wakibu Bunnya, the team leader of Open Space Center, said whereas the government has a big role to play in creating an enabling environment for the youth, there is need for the youth in Uganda to put in place the much-needed innovation, hard work and initiatives.

"We need to believe in our vision and ideas, convincing policy makers on the need to design policies that work for young people and profiling existing youth opportunities in various sectors," Wakibu said.