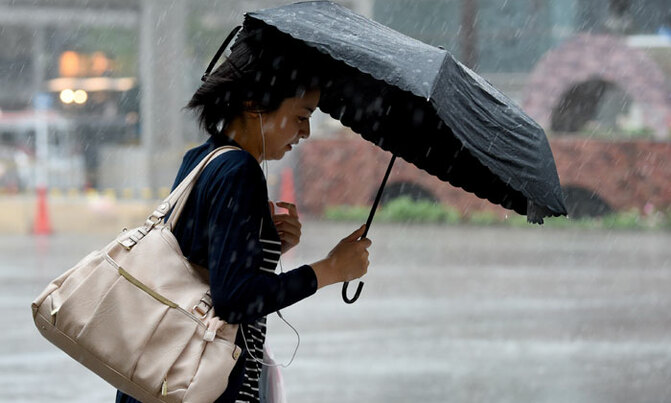 Typhoon Mindulle made landfall in Tateyama city, 80 kilometres (50 miles) southeast of Tokyo.
A powerful typhoon struck near Tokyo on Monday, the first for 11 years to hit the densely populated region, temporarily shutting down Japan's biggest airport and grounding more than 500 flights nationwide.

Typhoon Mindulle made landfall at about 12:30 pm (0330 GMT) in Tateyama city, 80 kilometres (50 miles) southeast of Tokyo, the Japan Meteorological Agency said.

As of 4:00 pm the storm -- packing gusts up to 162 kilometres per hour -- was northeast of Tokyo and moving north at 35 kilometres per hour, the agency said.

According to public broadcaster NHK, a total of 30 people were injured. Most of them were minor but a 34-year-old man broke his rib after falling due to strong winds.

"In Tokyo... please exercise caution for landslides, flooding in low-lying areas, surging rivers, violent wind and high waves," the weather agency said.

It marked the first typhoon in 11 years to score a direct hit on the Tokyo region, the agency said.

Downpours caused rivers to swell, with gushing waterways close to overflowing but staying within their banks.

Narita international airport east of Tokyo closed its runways in the afternoon for about an hour as officers evacuated the control tower due to strong winds, according to the airport operator.

Airlines across the country cancelled a total of 508 flights, mostly to and from Tokyo's Haneda airport, NHK said.

Japan Airlines said it cancelled 185 domestic flights, affecting 33,692 customers, while All Nippon Airways cancelled 112 domestic flights, affecting 26,500 passengers.

Most major commuter train services in Tokyo and its surrounding region operated normally, including bullet trains.

Some lines, however, suffered temporary delays and stoppages.

Separately, Typhoon Kompasu, which hit Japan's northern main island of Hokkaido Sunday, was downgraded to a temperate depression by early Monday as it moved away into the Sea of Okhotsk.

Heavy rain since Saturday caused high waves and rivers to flood on the island, where rescue workers found a male body Monday morning.

Police did not immediately link the death to the storm, but local media said it might be the owner of a vehicle stranded by heavy rain.

The local Hokkaido government has said the storm has caused only three minor injuries so far.