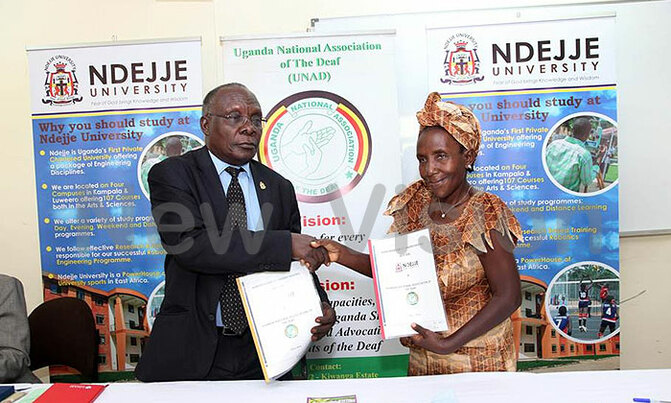 Ndejje becomes the first chartered private university to introduce sign language teaching in Uganda.
KAMPALA - Lack of sign language interpreters continues to deny deaf persons an opportunity to pursue their dream professions in higher institutions of learning.

In Uganda, it is only Kyambogo University which offers sign language training.

The Uganda National Association for the Deaf (UNAD) executive director, Ambrose Murangira says more institutions need to introduce sign language interpreters and training to allow the deaf pursue further professional studies.

He made the revelation during the signing of a memorandum of understanding (MoU) between Ndejje University and UNAD.

It was signed by the university's Vice Chancellor, Prof. Eriabu Lugujjo and UNAD chairperson, Christine Lule recently at Ndejje's graduate school in Rubaga division, Kampala.

The event was witnessed by senior officials from both institutions.

Ndejje becomes the first chartered private university to introduce sign language teaching and the second university in the country.

The MoU, which is to run for four years, focuses on collaboratively strengthening sign language training at both institutions and building capacities in line with maximizing their potential with a main objective of using available resources, which are specific for research, training and capacity building programs jointly.
Ndejje and UNAD agreed to promote capacity-building for deaf students through participation in training at the university, with formal and informal training ranging from tailor-made short courses to graduate courses.

Dissemination of information and research findings through the annual university and UNAD conferences as well as scholarships, publications in respective the respective parties' journals and supporting research activities concerning the deaf in terms of mapping students with a suitable supervisor, advisor or research promoter.

The deal also looks to lobbying from Government and donor support in terms of financial and logistical support among others.

Prof. Lugujjo said the agreement is not accidental because it is in line with the university's strategic plan under its core nine pillars. "One of our pillars is partnerships and cooperation. This is a fulfillment of our expectations."

He said the MoU democratizes or broadens the inclusion of people with disability, adding that there is need to create efficiency in human potential to contribute to development.

"Ndejje is fortunate to have this partnership. We pledge to work in line with the MoU to meet the expectations. We are going to be strategic and mindful to get our expectations," he added.

Meanwhile, UNAD's Murangira thanked the Ndejje University for agreeing to support the deaf through promoting the quality of their education.

He said the move is also going to improve the education opportunities for the deaf.

"Many deaf students have been dropping out of school because of exclusion and lack of sign language interpreters. Today we are taking about inclusion of the deaf and hearing people. We are yet to see more deaf persons graduate with degrees and contribute to the development of the country like other Ugandans."

Out of the estimated one million deaf persons in the country, only 1% are said to have acquired a degree.

"Many join vocational institutions because they drop out along the way, while other fail to join university due to lack of sign language interpreters," said Murangira.

UNAD has trained about 20 sign language interpreters in every district to help the deaf access services easily, he added.

UNAD chairperson Lule said they need more schools for the deaf.

"We have Wakiso and Mbale Secondary Schools for the Deaf. We expect another to be set up in Lira. Universal education is good but has not benefited deaf children because many schools lack sign language interpreters," she said.

On his part, UNAD treasurer Robert Nkwanga said government needs to mainstream sign language in all the curriculum and place interpreters under Public Service to ease service delivery to the deaf.

"We need sign language interpreters in hospitals to help interpret for the doctors and nurses. Many of the deaf fail to get service due to lack of proper communication. Even deaf children leave school because of the same problem."