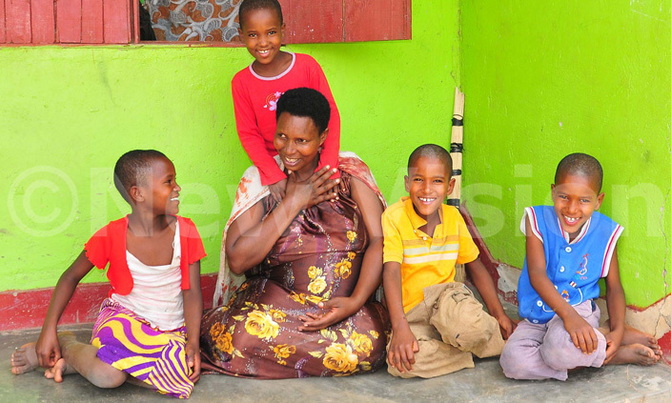 Back home in their old, leaking hut, the couple, who are residents of Lwattimba village in Bukomero, already had six children.
PIC:The quadruplets Barbara Bakulu, Sharon Nakato, Paul Kalongo and Joshua Kalumuna at their new house built by Good Samaritans

Tomorrow, Sunday Vision will host the 3rd annual Kampala Twins Festival at Kyadondo Rugby Grounds. Gates open at 10:00 and you can get in for a minimal fee of sh10,000. Foods and drinks will be on sale. Come enjoy a fun day with twins, triplets, quadruplets, nalongos and Salongos.

In the build up to the event, we profile multiples families from across the country.

In 2008, Mary Kakuru gave birth to quadruplets (four babies) —two boys and two girls — and, suddenly, her life was turned upside-down.

It began with failure to clear the bill at Nsambya Hospital in Kampala, where she had a normal delivery.

Earlier, when her pregnancy was seven months, the medical team at Bukomero Health Centre in Kiboga district had referred her to Mulago Hospital, but after a few weeks there, a relative took her to Nsambya.

Kakuru was kept in hospital, until she delivered, which was tough financially. Her husband, George Kakuru, says he sold the only two cows they had, to meet the medical bills for the two months before delivery.

"By the time she gave birth, I had nothing more to sell. I could not raise the medical bill, plus clothes for the newly born babies," he says.

Back home in their old, leaking hut, the couple, who are residents of Lwattimba village in Bukomero, already had six children.

When the Kakurus' story was published in the New Vision, Good Samaritans came to her rescue. They paid her medical bills and gave her babies clothes.

Former local government minister Bidandi Ssali transported the couple and their new borns back home. He also gave 10 bags of cement towards the construction of a new house for the Kakurus.

Good Samaritans visit Bukomero
When the babies were three weeks old, they were admitted to Bukomero Health Centre, where Agnes Kibombo, a nurse, worked tirelessly to save their lives.

The following week, their mother was rushed back to Nsambya Hospital, with excessive bleeding.

By the time the babies turned five months, their father, who was a herdsman had fled under the pretence of looking for employment.

For a full year, he was absent from home and did not send money for up-keep for his family. A group of about eight Good Samaritans, who frequently visited the family to bring them supplies, decided to build them a permanent house.

With sh350,000, construction began and with this came the return of their father. He claimed he had failed to get a job.

Several people chipped in to complete the house, including Toyota Uganda Limited, that offered the iron sheets and a solar lighting system, which also offered the family a means of income, since they could now offer phone-charging services.

Mary says this was a tremendous change of lifestyle as nobody else in her family had ever owned an iron sheet house.

She believes that the quadruplets came with good luck.

Another Good Samaritan bought them beds, and later, chairs for their living room.
As the group of well-wishers pursued the house project, the Shalitas, a family around Kampala, took over the responsibility of buying the family food on a monthly basis.

"I thank Vision Group for standing with my family and publishing our stories, which yielded fruits from readers," she said.

Raising quadruplets
Like many mums who have had multiple births, Kakuru says it was tough raising the quadruplets.

"They would fight to breastfeed, especially the two boys — Paul Kalongo and Joshua Kalumuna. One of the girls, Barbara Bakulu, would join in. The last born, Sharon Nakato, would just sit and watch the drama," she says.

She says the babies would fall sick all at once, which was a challenge, as the health centre was quite a distance away.

"By then, bodabodas had not yet come to our village. Besides, even if they had been here, we would not have been able to afford to pay for them.

"I used to put one on my back and carry the other two in my arms, while my elder daughter would carry one," she recalls.

Mary is thankful to the Good Samaritans, who later bought the family a bicycle to ease their transport.

Kakuru, who has since been on family planning, was shocked this year to discover that she is pregnant again. She is expected to give birth this month, although it has not yet been confirmed how many children she is carrying this time round.
You can join the conversation on our twins Facebook page: KAMPALA TWIN FESTIVAL

RELATED

Twins festival: Born together, working together
Twins festival: Meet the most admired twins in Mbale's
Twins festival: I sold 20 cows, 15 goats to save my quadruplets
Akello takes care of her twins the best way she can