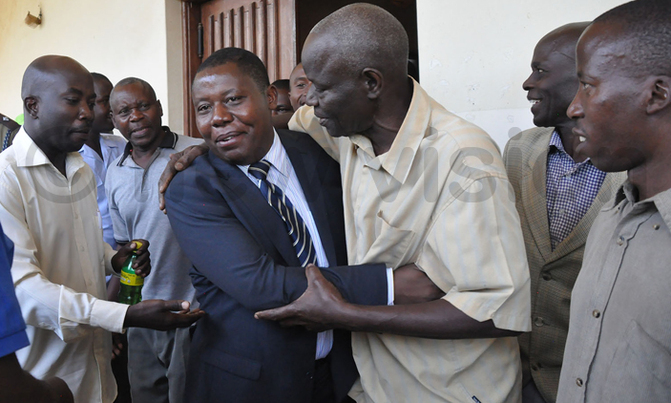 A disgruntled Kyamadidi said he was ready to appeal the ruling
The Mbarara district Police had to fire tear gas canisters as they clashed with rowdy supporters of Vincent Mujuni Kyamadidi at the Mbarara High Court on Friday.
This followed a court ruling that dismissed the Rwampara Constituency election petition filed by former MP Kyamadidi against MP Charles Ngabirano for lack of evidence.
Police had deployed heavily around the court premises, and supporters of both parties were barred from entering or getting close to the court premises.
The supporters had to wait patiently for the outcome. Twice before on August 4th and August 17th, court failed to sit.
In her three hour ruling, Nabisinde said all allegations by Kyamadidi, through his lead counsel Ngaruye Ruhindi, lacked substantial evidence to prove that the 1st respondent (Charles Ngabirano) committed electoral offences during the elections.
Kyamadidi contested in the February elections as an Independent after losing to Ngabirano in the NRM primaries.
Kyamadidi had filed 7 grounds against his rival and the Electoral Commission which included training 'goons' to harass, beat and intimidate his supporters.
He also alleged that his rival bribed voters, rigged the election through ballot stuffing and pre ticking of ballots, and also tore and removed his campaign posters especially in Mwizi sub country.
However in her ruling, Nabisinde said that the petitioner did not give proof within the standards of the law, that there were cases of violence, even when he presented pictures of people he claimed to be Ngabirano's supporters, on a vehicle with sticks.
"I have not found any tangible evidence of electoral officials chasing voters away from the polling stations. This is therefore an unfounded allegation that is not satisfactory," Nabisinde said.
Nabisinde ruled that the fact that there were only signatures of the presiding officer and Ngabirano's agents was evidence that Kyamadidi did not have agents at the specified polling stations.
"There was no evidence of contesting these results by the agents of the petitioner and therefore this means there were no agents of the petitioner," Nabisinde ruled.
On the issue of the number of votes surpassing the number of registered voters in Rwampara sub county, Nabisinde ruled that it was a technical problem that was witnessed all over the country due to the new software that was installed by the Electoral Commission.
Nabisinde dismissed the petition with costs, much to the agony of Kyamadidi and his wife who accompanied him to court.
However, after the judgment, a disgruntled Kyamadidi who was welcomed by his angry supporters who were waiting outside said he was ready to appeal the ruling.
"I will fight for my justice and the justice of my people. I will appeal this ruling," Kyamadidi said.
Ngabirano called on all Rwampara people to unite for the betterment and development of their constituency.