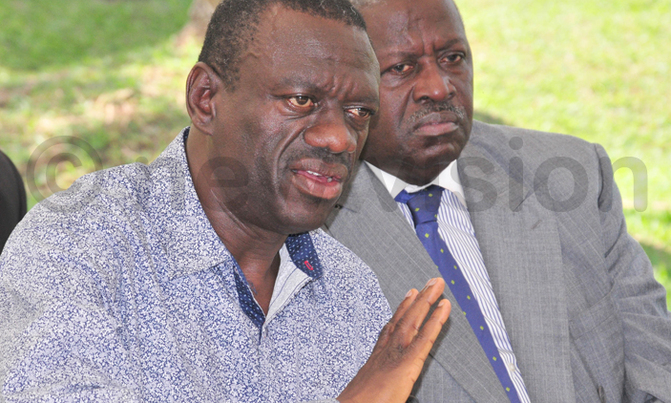 He made assurances that he would attend the dialogue on condition that his concerns are addressed
Former Forum for Democratic Change (FDC) presidential candidate Dr Kizza Besigye has set a number of conditions for October's highly anticipated national dialogue with President Yoweri Museveni.
In conditions which he said are not new, Besigye demanded assurances on the audit of the 2016 election results, the calibre of people to convene and moderate the dialogue , the opposition political parties taking part in the dialogue and proof that the decisions of the dialogue, will be implemented.
According to Besigye, there are some brief case political parties in the opposition, which he said should not be part of the dialogue.
"These are the conditions that should be addressed, if there agreement on these issues, for us we are ready to sit and dialogue," Besigye told reporters on Friday at his home in Kasangati.
In a statement released recently, the Inter-Religious Council of Uganda indicated that President Museveni and Besigye had shown interest in attending the national dialogue.
However Besigye, who assured that he would attend the dialogue on condition that his concerns are addressed, denied meeting the Inter-Religious Council and the Elder's Forum with whom the dialogue is being organized.
"I have only met religious leaders and the Elder's Forum on two occasions. At my home here and when I was arrested at Luzira, at no point did we discuss me meeting Museveni for dialogue. A lot of ground work must be undertaken, before a dialogue takes place," Besigye said.
Besigye added that ever since the February 2016 elections, many initiatives, have been undertaken by various political players, to have him and Museveni engage in dialogue.
No Issues with Museveni
Besigye however noted that there is no need for him to engage dialogue with Museveni adding that he has no personal issues with the President.
"There is no process in which I Besigye, I'm interacting with Museveni, and I have no issues with Museveni as Besigye. It is our country which has issues of some political nature, there is no reason as to why I should go and have a private chat with an individual on matters affecting our country," Besigye said.
The four time presidential contender, implored the religious leaders and other stake holders in the dialogue, to engage Museveni on issues of injustices, which he said affect the people they led in their churches