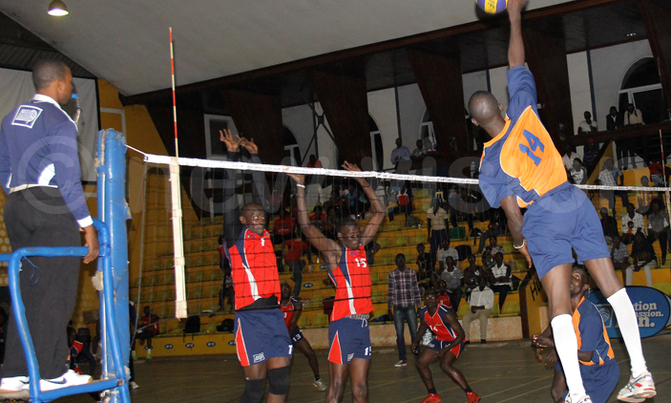 The record five time league champions were exposed in their opening game against Nemostars
KAVC 3 Nemostars 2
Sport S 3 Sky 0
Former league champions KAVC men must step up their game, improve on their serving, net defence, attack, cover and endurance if they are to go past hard fighting Nkumba University on Saturday.
The two meet in the NSSF National Volleyball league first round fixture at Makerere University Business School ground (MUBS).
The record five time league champions (2002, 2004, 2007, 2010 and 2014) were exposed in their opening game against defending champions Nemostars, despite a 3-0 win.
KAVC-A led 2-0 but Nemostars fought back to level 2-2 taking the game into a decisive set which eventually ended 15-9 for KAVC.
"It's true our boys have to step up their game especially in net defence and endurance. They struggled and we nearly lost that game," former assistant coach who is the current Club Talents camp co-ordinator Dannie Okwee stated.
The team missed the coaching expertise of head Sheila Omuriwe and was handled by former club star Daudi Okello who turned professional in Rwanda.
Nkumba has always given top clubs a hard time and humiliation in the previous seasons and they look forward to doing the same this year.
Meanwhile in the women category, Uganda Christian University (UCU) renews their rivalry with Nkumba in the battle of Universities while other games will be played on Saturday and Sunday alongside men.
Saturday
Men
Nkumba v Tigers
VVC v Sky
Nkumba v KAVC-A
UCU v Nemo Stars
Women
KAVC-B v VVC
Thunders v Ndejje
Mulago v Nkumba
UCU v Nemo
KCCA v Ndejje
Nkumba v COPAB