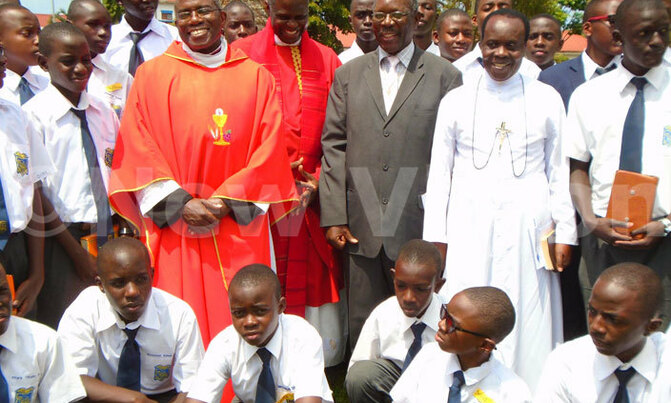 Kasibante commended the staff and students of SMACK for balancing their academic and religious obligations.
PIC: Monsignor Kasibante in red chasuble with glasses and Brother Aganyira in a white cassock with students of Smack on Sunday. Photos/Mathias Mazinga

The parents and staff of St. Mary's College, Kisubi (SMACK) on Sunday (August 14) joined the students, to mark the Catholic feast day of the Assumption of the Blessed Virgin Mary, their Patron Saint.

The function at the school in Wakiso district was presided over by the Vicar General of Kampala Archdiocese, the Rt. Rev. Msgr. Charles Kasibante, who confirmed a number of Smack students into the Catholic faith.

Kasibante commended the staff and students of Smack for balancing their academic and religious obligations.


"When I was still the chaplain here, I was always impressed to see students going to the chapel for prayers, on their own, as early as 6:00pm. There is a dire need for students to balance faith matters and academic excellence. They have to participate fully in the life and activities of the Church. It is God who gives meaning to our success," Kasibante said.

Kasibante later asked the students to emulate Mother Mary, their patron saint, who he said was humble, obedient, prayerful and generous.

The head teacher of the school, Bro. Deodati Aganyira announced that the Brothers of Christian Instruction were going to start a new college at Kabojja, in Wakiso district.
"The growing population at St. Mary's College Kisubi, the Universal Primary Education policy, coupled with our year-to-year excellent results have always posed a big challenge to the existing infrastructure. This year we received ten thousand applicants! It is very painful to send away a parent who loves his or her child join the school"
"It is because of this challenge that the Brothers of Christian Instruction and the alumni of Smack came up with the idea to start another school around Kampala," Aganyira said.

He added: "The school will be called St. Mary's College, Kabojja. It will be the same as St. Mary's College Kisubi in terms of culture, character and academic excellence. Students who will be admitted to Kabojja will not miss anything from Smack."

Aganyira further explained that the school will start admitting students next year.

"We shall start with S1 and S5, to ensure discipline and academic excellence. We shall put the school at the former sports field of Mugwanya Preparatory School, in the vicinity of the Entebbe Express Highway, where we have about 10 acres."

"There are currently no buildings. The engineers have also not yet told us the amount of money that the project will cost. But we are sure that with the help of God, the school will begin come 2017."

The function was also graced by Emmanuel Kalema, a member of the school's Board of Governors.