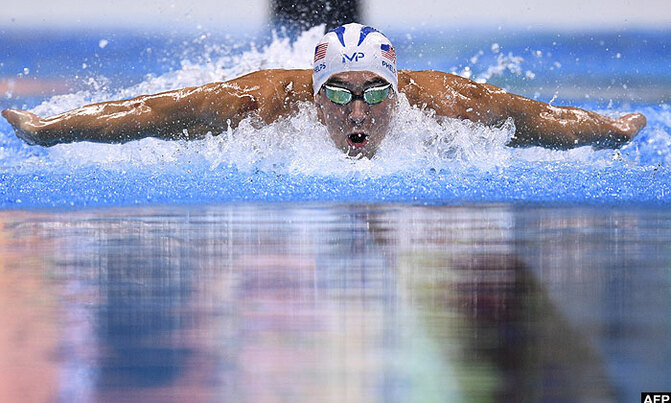 At 31, and less than two years from his drink-driving arrest and rehab, the greatest Olympian went out on a high.
Michael Phelps ended his last Olympic adventure with five gold medals and one silver to lead yet another dominant US performance in the pool. Here are five things we learned from the swimming at the Rio Olympic Aquatics Stadium:

Age does not weary Phelps

At 31, and less than two years from his drink-driving arrest and rehab, the greatest Olympian went out on a high, regaining his cherished 200m butterfly title, winning a fourth straight 200m medley gold and helping the United States to gold in the 4x100m and 4x200m freestyle relays and the 4x100m medley relay. His only wobble was a runner-up finish in the 100m butterfly to Singapore's Joseph Schooling -- one of dozens of rising stars who cited Phelps as their inspiration in reaching their sport's biggest stage.
Michael Phelps with the 22 gold medals he won at the Olympic Games in Athens 2004, Beijing 2008, London 2012 and Rio 2016

"It's not even in a generation, it's once in every 10 generations that someone like Michael comes along," said coach Bob Bowman after the swimmer he's guided for 20 years pushed his gold total to 23. "There is only one Michael."

Team USA rules the waves

Despite gloomy assessments of the world rankings leading some pundits to predict the United States would struggle in Rio, Team USA again rose to the Olympic occasion. With 16 gold medals, eight silver and nine bronze, the US snared their highest total since winning 23 at the 2000 Sydney Olympics.
Their 16 golds accounted for nearly half of the 33 awarded at the pool. If that number seems off it is because American Simone Manuel tied for the coveted 100m freestyle gold with Canadian 16-year-old Penny Oleksiak -- the first millenial gold medallist. Also messing with the symmetry of the medals count -- Phelps's three-way tie for silver in the 100m fly with South African Chad le Clos and Hungarian Laszlo Cseh. In a week that featured eight world records, Americans medaled in 29 of 32 events, four of those featuring two on the podium. Only the women's 200m breaststroke failed to feature a US finalist.

"We have an amazing team, and to have had so many people just getting their hand on the wall one after another, definitely we've fed off of that," three-time US Olympian Dana Vollmer said.

Ledecky takes up the baton
Four years on from her breakout 800m free victory in London, Katie Ledecky swept the 200m, 400m and 800m freestyles -- shattering her own world records in the 400m and 800m to stamp herself as an Olympic great. Ledecky's blazing 8:04.79 in the 800m free left silver medallist Jazz Carlin of Britain 11.38sec back -- the second-biggest margin of victory ever. But the 19-year-old from Washington DC, heading to university next month, showed she can pull off a tight race too as she held off Sarah Sjostrom in the 200m free. She was the first to complete the treble since Debbie Meyer in 1968, the year the 800m was added to the Games programme.

"She is a phenom," said 12-time Olympic medallist Ryan Lochte, who predicted that Ledecky would one day beat his times in distance events. "Any time she gets in that water she is going to do something amazing. She is just so young and she just has so much determination and she is so gifted."

Aussies face tough questions

Australia's talent-laden team arrived in Rio primed to redeem themselves after a disastrous one-gold showing in London. With a new coach and a bevy of swimmers atop the world rankings, they were tipped to win up to 11 gold. But team figureheads Cate Campbell and Cameron McEvoy -- favorites in the women's and mens 100m freestyle sprints failed to deliver.
There were bright spots -- including teenager Kyle Chalmers' stunning 100m free triumph as his touted teammate faltered and Mack Horton's 400m free win over China's Sun Yang. Australia had five individual medallists and also nabbed gold in the women's 4x100m free relay. Nevertheless the calls came immediately in swimming mad Australia for an overhaul of the system, something coach Jacco Verhaeren said was unnecessary.

"Whenever you do trials, with whatever format, it comes down to race day," he said. "There's no systematic approach that can change that fact."

The world is coming

US dominance notwithstanding, Rio showed swimming is thriving around the world with 13 countries winning at least one gold. That included Joseph Schooling's sensational first-ever gold in any sport for Singapore, and Dmitriy Balandin's first swimming gold for Kazakhstan in the 200m breaststroke. Sarah Sjodin's world record-setting 100m butterfly triumph marked the first gold for a Swedish woman, while Pernille Blume's 50m free gold was Denmark's first gold in 68 years.
Katinka Hosszu recalled Hungary's long swimming tradition with three individual golds, Oleksiak spearheaded a Canadian resurgence and breaststroker Adam Peaty twice blasted the 100m breaststroke world record as Britain secured their biggest medal haul in the pool since 1984. American Ryan Murphy, who set a 100m backstroke world record in leading off the victorious US 4x100m medley relay, said the surge in swimming around the world owed a lot to Phelps.

"No matter what country you swim for you're indebted to Michael Phelps," Murphy said. "He's opened a lot of doors for all of us."