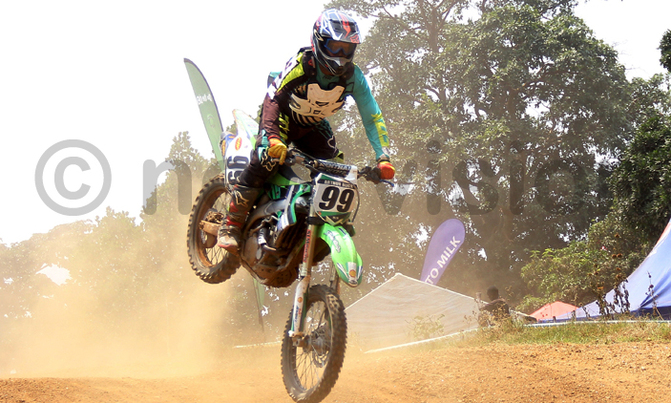 Uganda has a team of 42 riders from different classes
FIM Africa Nations Motocross Championship
Former national MX 1 motocross champion Asaf Natan, ten time champion Arthur Blick Jr and Barak Orland will form Uganda Veterans team at the FIM Africa Nations Motocross Championship this Saturday and Sunday at Jamhuri Racetrack Nairobi.
Blick, Orland and Natan join Christian Milleti and Ashraf Mbabazi in a strong veterans team expected to win gold for Uganda.
"We are okay fitness wise and we are looking at doing our best come Saturday and Sunday," Orland stated after training at Busiika.
His teammate Natan also added that he is ready for the event and it is only the action he is waiting for.
"I have never been at Jamhuri since 2012 but that will not affect my performance. The official training will be enough for me to master the track," Natan said.
According to FIM regulations any rider above 36 years of age rides in the veteran class.
The trio are expected to win medals for team Uganda on the redesigned track.
Kenya, Zambia, South Africa, Botswana, Ivory Coast, Zimbabwe and Namibia are the other countries competing in the continental event.
Uganda has a team of 42 riders from different classes.
Team Uganda: William Blick Jr., Miguel Ssemakula, Abigail Mwangala (PeeWee), Alon Orland Isabella Blick, Gift Ssebuguzi, Malcom Omoding, Marcus Bukenya (50cc Class), Stav Orland, Habibu Kiggundu, Imran Nkurunziza, Malcom Lubega, and Milton Akaki (65cc), Aviv Orland, Fortune Ssentamu, Ben Nsumba, Wazir Omar, Joshua Mwangala (85cc), Ali Yasser Omar, Paddy Blick, Yasin Kasirye, Stephane Okenge (MX 125), Fatuh Kiggundu, Alestair Blick, Luke Phillips,Rinaldo Milleti (MX2), Talha Kiggundu, Maxime Van Pee, Chris Prinsloo, Michael Ntairo, Jojo Wilson (MX1), Barack Orland, Arthur Blick, Asaf Natan, Christian Milleti, Ashraf Mbabazi (Veterans), Peter Pulser, Akaki Senior (Masters), Esther Mwangala, Aminah Mayanja, Sharifah Kateete and Gloria Lugya (Ladies class).