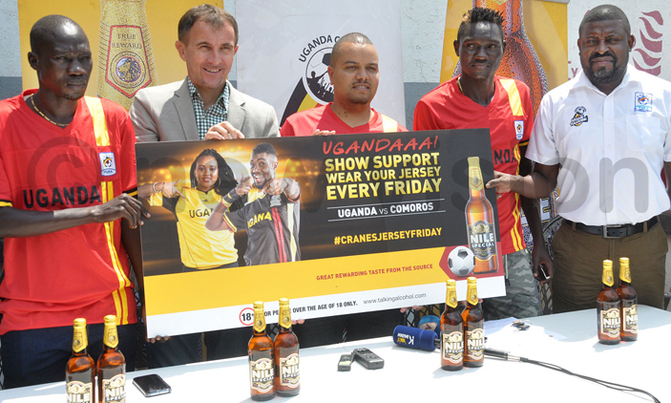 The squad will be announced on August 24 before they start non-residential training
Cranes coach Micho Sredojevic believes his team will, against Comoros, erase all the bad memories about Uganda's past qualification failures.
The coach was addressing the press at the launch of a Nile Special fans drive dubbed 'Cranes Na Mutima - Tulumbe' ahead of the teams must win match against Comoros at Namboole, on September 4 at Nile Breweries depot in Luzira.
"We hope to finish the job that we started 14 months ago and I hope we are all ready for national duty. The time has finally come to erase the bad memories; local and foreign players are getting ready for the game," Micho said.
"We are now doing player assessment and following up on the foreign players and all the 30 players are out there are going to be selected on merit, no one is assured of a place on the team at the moment," Micho stated.
He said the squad will be announced on August 24 before they start non-residential training on August 25-26, ahead of residential training that starts on August 28.
This will be exclusively for the foreign players who will jet in early and local based players ahead of the international friendly against Kenya on August 30 before the final 23 players are announced.
He called on everyone to rally behind the team for the one single purpose of qualifying.
Meanwhile official partners of the Cranes, Nile Special have launched a fans drive to drum up more support for the team.
"FUFA is ready, the coach and the players are ready, and so what is left is for all of us to rally behind the team; ours is to provide a platform for the fans to ensure that by the time Comoros is in town, they are already beaten. We want people to shout and support the Cranes, and Comoros to feel the voice of the35 million Ugandans," Mbabazi said.
He said the campaign has three aspects; wearing Cranes jerseys on Friday until game day, providing up to a thousand tickets to fans through different activations and creating fan parks for those who will not make it to Namboole in different regions of the country.
FUFA vice president Denis Mbidde begged the fans to wear the right replica jerseys before urging them to also attend the Cranes friendly against Kenya on August 30 at Namboole.
"As players we are training for one thing and eager to move the team further. We are all prepared to make our country proud and all players are ready to die a little so we call all on our fans to come and rally behind us," Cranes defender Joseph Ochaya said.