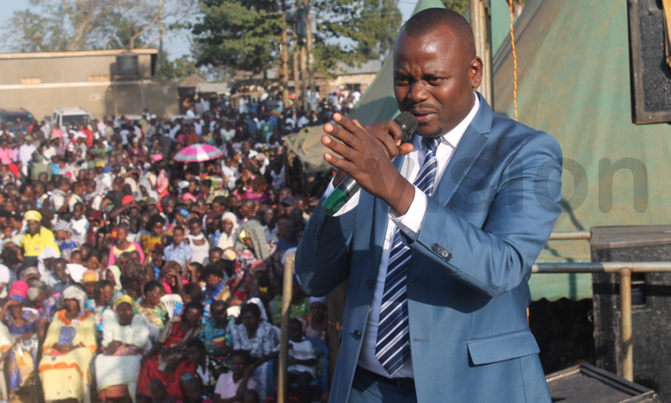 Auditors discovered the fraud but the DPP dismissed cases against the implicated SACCO members
Following the unchecked embezzlement of funds from the Savings and Credit Cooperative Societies in Rakai and Sembabule districts, the state minister for microfinance Haruna Kyeyune Kasolo, has called for fresh investigations to recover the funds.
According to Kasolo who is also the Kyotera County MP, the SACCOs under probe include Victoria Microfinance and Kakuuto Microfinance in Rakai, and Taala Ya Mawogola in Sembabule.
At least more than 12,000 Sacco members in Rakai have lost over sh2b while over 5000 in Sembabule have lost more than sh800m.
Kasolo said that all implicated managers should be forced to return the money or be rearrested and arraigned in courts of law.
For Victoria microfinance, the implicated people include Baker Kasagga (microfinance treasurer), Susan Namujju (general manager, Kyotera branch), Valisto Mayanja (credit manager), Angelious Ngobya (loans officer, Kyotera branch), Simplicio Kaliisa (external auditor), Kakembo Livingstone (branch manager, Mutukula) among others.
He further said that defaulting on loans and theft of funds has consistently crippled the operation of SACCOs in the country leaving most of the members stranded.
He further added that these SACCOs were rendered insolvent and some closed. Insolvency is the state whereby a finance institution is unable to pay the debts owed or unable to continue operating due to lack of funds.
He further appealed to the Inspector General of Police Gen. Kale Kayihura to help in the investigations in order to arrest the culprits.
Victoria Microfinance
New Vision has learnt that Victoria Basin Saving Microfinance Ltd closed business in 2012 while Kakuuto Microfinance is struggling to stay afloat.
Sarah Lunkuse, the chairperson of Tuzukuke Women Group, said that the Victoria Microfinance closed with more than sh6m of their savings leaving them helpless. She further added that all activities of the 40 member group have since stalled.
For Victoria Microfinance, the matter went to the Director of Public Prosecution (DPP) but charges against the accused managers and board members were dropped.
In a letter dated 10th July, 2014 and signed by Vincent Wagona, all charges against the implicated persons were dropped due to lack of enough evidence pinning them.
However, a file RKI CRB 1881/2011 was opened for investigation but the DPP dismissed the case against the SACCO board members.
He said that the savers are planning to file yet another case to have the implicated persons pressed in order to recover the funds.
Other implicated employees who took the money and never returned it are; Ronald Lubega (senior accountant) sh40m, Ismail Ssegona (Kyotera branch manager) sh40m, Silva Bitesigirwe (Kalisizo branch manager) sh20m, Jane Nabalema (accountant) sh20m, Judith Ndagire (Lyantonde branch loans officer) sh10m, Baker Sendege (internal auditor) sh4m, Josephine Nantongo (banker) sh4m, Matiya Lukyamuzi sh14m, Eddie Kato 14m, John Jones prominent wholesaler in Kyotera sh16m, Rose Ssemakula sh1.8m, Dan Samula the Rakai town clerk (1,680,000/=), Nyanzi Basalidde (3,109,000/=), Margaret Nabadda (1,995,000/=), Milly Nabusurwa (1, 790,000/=), Edward Kayongo (1,450,000/=), Juliet Nambaziira (262,000/=), Alex Kabiito (855,800/=), Robert Nsekanabo (472,000/=), Paul Kawuma (386,670/=), Habib Nakyanja (225,380/=), Dominic Kabogozza (296,000/=), Jane Kulubya (2,342,000/=), Joyce Namanda (842,000/=), Matia Mbazira (972,000/=), Richard Lubega (630,000/=), Frank Ssekanjako (316,900/=), John Ssekyondwa (432,000/=) and others.
Kakuuto Microfinance
A similar fate befell Kakuuto Microfinance after losing over sh1b to Remmy Kisawuzi, the top manager of the SACCO between 2012 and 2013. Kasawuli had been the SACCO's manager for over 14 years.
It is said that Kisawuzi allegedly withdrew funds of up to sh1,039,892,650 in different turns.
An internal audit report dated June 2014 indicated that the money was withdrawn from the SACCO's accounts in Centenary Bank, Kyotera and Stanbic Bank in Masaka.
According to Thaddeus Lutakome, the chairman board of directors, members got concerned after savers from SACCO branches in Bukunda, Kibaale and Kakuuto reported that they could not access loans due to lack of money.
It indicated that in 2012, Kisawuzi withdrew sh36m from Kibaale branch, sh12,933,750 from Kakuuto branch, sh264,680,000 from the SACCO's account in Centenary Bank, Kyotera branch.
In 2013, he allegedly withdrew sh485,317,700 from the SACCO's account in Centenary bank, Kyotera branch, and sh129,700,000 from the SACCO's account in Stanbic Bank, Masaka branch.
The report further indicated that he also got a loan worth 12,500,000 which he failed to pay on top of paying himself advance salary for several months worth sh7,120,000/=.
Kisawuzi further instructed a woman identified as Angel Nankumba, who was managing the Sacoo's mobile money account, to send sh10,650,000 to different mobile numbers which he withdrew.
Rakai Police intervened in the matter and investigations begun but Kisawuzi arrest and his whereabouts are unknown. SACCO members however tasked police to pursue him and arraign him in court so as to recover their money.
Twaha Mutebi, one of the SACCO members, said the board of directors was also responsible for the mess since they remained silent after learning about Kisawuzi's deceptive ways.
Savers of Taala Ya Mawogola Microfinance in Mawogola County, Sembabule district protested after their manager Ibrahim Were disappeared with over sh600m.
According to the audit reports, some of the old board committee members were also implicated in the missing funds.
Rakai District Leaders
According to Rodney Mukasa, the District Internal Security Officer, the case was taken to the DPP on file. He added that the matter is currently being handled in Kampala.
Robert Benon Mugabi, the LC5 chairperson, said that SACCOs in Rakai are always affected by members who take loans and fail to pay back in time. He added that embezzlement by managers may take some time to be noticed since it is often kept to a few staff.
However, majority of the affected and non-affected residents are currently shunning the SACCOs fearing to lose their money.
He further said any idea to recover the funds, will be supported by all means.