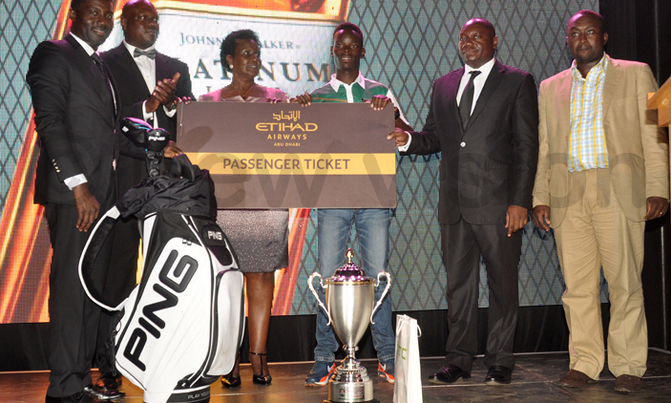 It was a stroll in the park this time for the University of Pretoria student
Top Ten
Ronald Otile (UG) 74+69+74+74 291
Adolf Muhumuza (UG) 71+77+71+77 296
Paul Muchangi (KEN) 74+75+75+77 301
Aaron Simfukwe (ZAM) 80+75+76+76 304c/b
John Basabose (UG) 75+78+75+76 304c/b
Alloys Nsabimana (RWA) 74+78+75+77 304
Joseph Cwinya-ai (UG) 71+78+82+74 305
Dennis Saikwa (KEN) 76+74+80+76 306
Edwin Mudanyi (KEN) 77+76+72+81 306
Alfred Nandwa (KEN) 74+75+83+76 308
Joel Basalaine (UG) 74+83+71+80 308
Ronald Otile returned 291 gross over four rounds to win the 82nd edition of the Tusker Malt Lager Uganda Open title at Kitante on Saturday.
The 21 year old scratch national team player, from Toro Club once again beat another club mate, Adolf Muhumuza to the championship by five strokes, to become the ninth golfer to win back to back open titles since the open started in 1932.
Deo Akope was the last to win back to back; (a hat-trick) in 2002. Before H.Davidson (1932-33), J.D Rankine (1935-36), N.C Elwell (1950-51), J.R Oglive (1955 -56), Mike Johnson (1960-62), John Higginson (1963-64), Sadi Onito (1976-78), Juma Jaffer (1981-82), Sadi Onito (1985-88) and 1994-1996, Steven Birungi (1997-99), had also managed the feat.
It was a stroll in the park this time for the University of Pretoria student who because of his recent relocation to South Africa has seen an improvement in his approach and game plan, unlike last year where he was stretched to the end by Richard Baguma, before he won by two strokes.
Despite hitting only two birdies in the final round and a two-over-par 74 final score, Otile had done enough in the previous two rounds to retain his title.
Following his win, Otile will fly business class to Abu Dhabi courtesy of Etihad Airways; enjoy three-night complimentary accommodation at one of the top hotels, as well as playing golf at one of the city's championship standard golf courses.
This was on top of other prizes; a brand new Ping golf set, HTC Desire phone and trophy presented to him by chief guest Minister of Trade Amelia Kyambadde, UBL Managing Director Mark Ocitti, and Etihad Airways General Manager, Uganda Toyin Alaran.
"A lot has changed in my game since I went to South Africa because I have a personal psychologist who has worked on my mental game. And I really practiced a lot before the tournament. My target was to play below 75 in every round," Otile said.
"Muhumuza is a good player but there is an element of his game that he has to work on; and that is containing pressure. He needs a professional to guide him," Otile noted.
But the Kyaninga Lodge and Britam Insurance sponsored Muhumuza said he had no pressure but was let down by his putting.
"I started well and I had contained play very well but my putting on the last day let me down," Muhumuza whose single birdie on number 13 was undone by bogeys on holes; 5, 10, 12, 13, 15, 17 said.
The top ten amateurs who finished behind Otile will once again have a chance to play in the professionals open due August 30-September 3 for a chance of joining the paid ranks.
They include Henry Ssali, Herman Mutebi, Solomon Kego, Yusuf Ssentongo, Ronald Rugumayo, Joel Basalaine, Edrine Okong, Joseph Cwinya-ai, John Basabose and Adolf Muhumuza.
"I'm really impressed by the fact that the winner is a very young man. I used to think that golf was for the rich and old but I have since learnt a lot since I came here," Kyambadde said, before promising to join in playing the game.
Subsidiary
Herbert Watsala 161 gross
Charles Mubiru 167
Anthony Agaba 170c/b
Andrew Mugume 170
Nett competition
Ponsiano Kalema 146
Hillary Rubaare 147
Harry Hakiza 149c/b
Joseph Bogera 149
Winner 1st 36 holes: Ronald Rugumayo 149
Winner 2nd 36 holes: Geoffrey Kubwa 149
Nett winner: Yusuf Ssentongo 288
Runner up: Edrine Okong 290
Nearest to the pin: Joel Basalaine