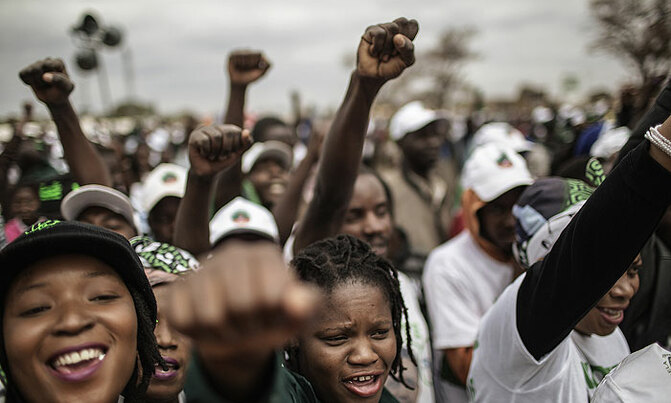 Constitutional changes mean that the winner must now secure more than 50 percent of the vote.
Zambians went to the polls on Thursday shaken by an election campaign of "unprecedented" violence that could threaten the country's relative stability and its democratic record.

Just 18 months after President Edgar Lungu narrowly won office in a snap election, he and his main rival Hakainde Hichilema face off again in a field of nine candidates.

Only 27,757 votes separated the two candidates in the 2015 ballot.

At least three people have been killed during the campaign, with regular clashes erupting between supporters of Lungu's Patriotic Front (PF) and Hichilema's United Party for National Development (UPND).

Ahead of the vote, the election commission issued an emergency statement describing the unrest as "unprecedented" and warning it had "marred Zambia's historic record of peaceful elections".

Last month, campaigning was halted in Lusaka for 10 days to reduce the violence.

But skirmishes continued until polling day, including fighting in the streets and vehicles overturned close to Hichilema's final rally on Wednesday in Lusaka.

Constitutional changes mean that the winner must now secure more than 50 percent of the vote, meaning a second round run-off could be held within weeks, heightening hostilities further.

"The PF government of President Lungu is starting to panic as the UPND campaign gains sustained momentum," Robert Besseling, of EXX Africa consultancy, said.

"The probability of a contested election result is growing, which would undermine the credibility of the vote and trigger more widespread partisan violence."

Regional flagship

Zambia, in contrast to some of its neighbours such as Angola and Zimbabwe, has escaped war and serious upheaval since independence from Britain in 1964.

It last held a peaceful transfer of power to an opposition party in 2011 when Michael Sata took office.
Supporters of the main Zambian opposition party United Party for National Development presidential candidate Hakainde Hichilema. (AFP)

Sata died of an undisclosed illness in 2014, and the 2015 election gave Lungu, 59, the right to finish Sata's term.

At his final rally, Lungu mocked Hichilema for being a wealthy businessman who is making his fifth bid for power.

"We have to understand where this arrogance and nonsense is coming from," Lungu told thousands of supporters at a dusty venue in Lusaka.

"He is hoping he will get to the (presidency)… because he wants to make more money."

Hichilema has repeatedly accused the authorities of turning a blind eye to attacks on UPND supporters and of undermining the opposition campaign by banning its rallies.

The UPND's vice presidential candidate was arrested and released twice earlier this year, and his house was raided by police.

The Post, an influential independent newspaper, was also forced to close in June over alleged non-payment of taxes -- triggering appeals from media rights' groups and the US embassy.

On the campaign trail, Hichilema, 54, has stressed his business credentials as an asset to turning around the stalling economy.

"We will bring knowledge to the table, we are business people," he said on the eve of voting.

"Because Lungu doesn't understand the economy, he does not know that people are suffering."

Trouble ahead?

Zambia, ruled by Kenneth Kaunda from 1964 until 1991, recorded GDP growth of 3.6 percent last year -- its slowest since 1998.

The falling price of copper, the country's key export, has put the economy "under intense pressure" according to the IMF.

Thousands of jobs have been lost in mining, electricity outages have become common and inflation is over 20 percent.

Either side is "unlikely to concede defeat without a fight, but we are hoping that this fight happens not in the streets but in the courts," said Dimpho Motsamai, an analyst at the Institute for Security Studies in Johannesburg.

About 60 percent of the population in Zambia lives below the poverty line, according to the World Bank.

Zambia also voted on Thursday to choose lawmakers and local councillors, and in a referendum on an amended bill of rights.

Polls close at 1600 GMT. Results are expected late Friday and Saturday.