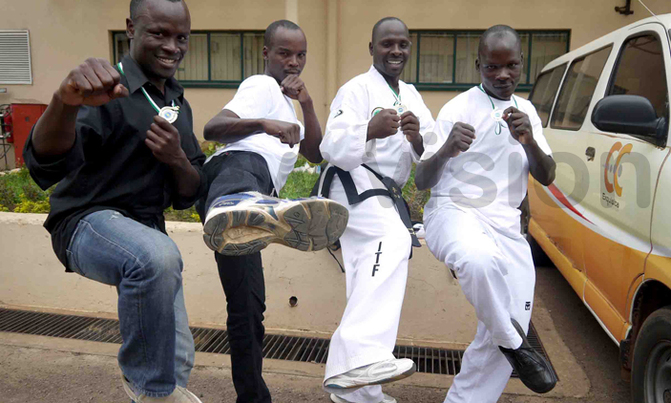 The team is now eyeing participation at the upcoming ITF World Cup
The Ugandan side on Tuesday returned from the 5th ITF Africa Cup were they finished second place overall with 3 gold and 2 silver medals in Addis Ababa.
According to team captain Robert Ojiambo the team nearly fulfilled their dream of taking first position.
The team is now eyeing participation at the upcoming ITF World Cup slated from October 11-16 in Hungary.
"We worked very hard to come out with these fair results despite all the hardships we earlier went through to make it to the event and we would have performed even better but some of our members were left out due to lack of finances," Ojiambo stated.
He added that the weather in Ethiopia was also a challenging factor on their side and promised that the team will always have preparations in different areas of the country in order to familiarize with different conditions.
"Ethiopia is a very cold country and this weather treated us unfairly because we were familiar with the warm temperatures but I think we should always have trainings in different areas so as to capture different weather conditions," he claimed.
Uganda finished behind hosts Ethiopia as Madagascar finished in 3rd position of the 10 countries that embraced the championship last week.
Brenda Masindi was the best performer on the Ugandan team after swimming to victory for sparing and power breaking to win gold and silver respectively.
While Mark Ogwang and Robert Ojiambo also scooped gold in power breaking and welterweight category respectively as Ramadhan Kawuka also hailed a silver medal in the light weight fight.