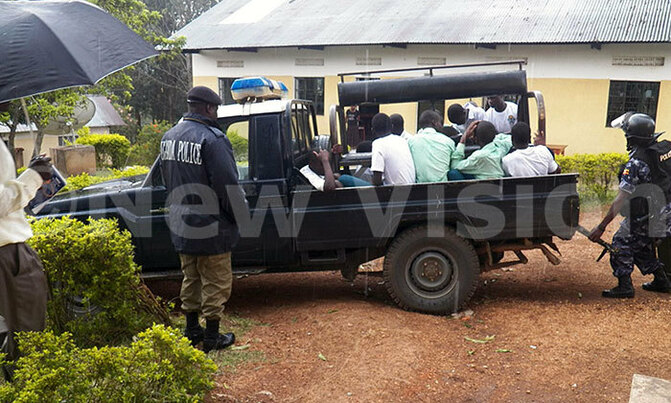 "They went on rampage and destroyed whatever they came across."
Police in Ibanda is holding 16 students of Equatorial College School believed to be behind a strike that led to the destruction of school property and the dismissal of all the Senior Four students.

The private secondary school is located in Kagongo division, Ibanda municipality.

The arrested students are charged with causing malicious damage to property during the strike that took place Sunday night, said Dennis Ochama, the Ibanda district police commander.

It is understood all those taken into police custody are in Senior Four, Five and Six.

They are said to have mobilized the rest of the students to dismantle windows and doors of all school structures, according to the school's headteacher Moses Bigirwa.
"They went on rampage and destroyed whatever they came across, including neighbors' shops and plantations. We shall assess the level of destruction and those found guilty will be obliged to pay for the losses," said the school head.

According to Bigirwa, the students were angry that they were stopped from watching a football match on TV plus being banned from engaging in sexual relationships.

The school director Robert Kamasaka, who is the former Kamwenge district LC5 chairperson, revealed plans to hold a general meeting soon to discuss the impasse and forge a way forward for the students, considering that some of them are candidate students due to sit their national exams in October.
The headteacher's car was not spared. (Credit: Lawrence Mucunguzi)
The school was addressed in the wake of the strike. (Credit: Lawrence Mucunguzi)

Elsewhere, district authorities have closed Sure Secondary School due to poor learning conditions for students and alarming sanitation situation.

The team led by RDC Eliasto Akatuhebwa and district education officer Ahimbisibwe Gaudies also ordered the arrest of the school director Gideon Tukasingura.

Ahimbisibwe said the school was operating without a license and that the sanitation at the school was putting students at risk contracting diseases.

"Some people have started to joke with school business to the extent that others don't have latrines and bathrooms. We shall not accept those people who extort money from parents in the name of providing better education to their children."