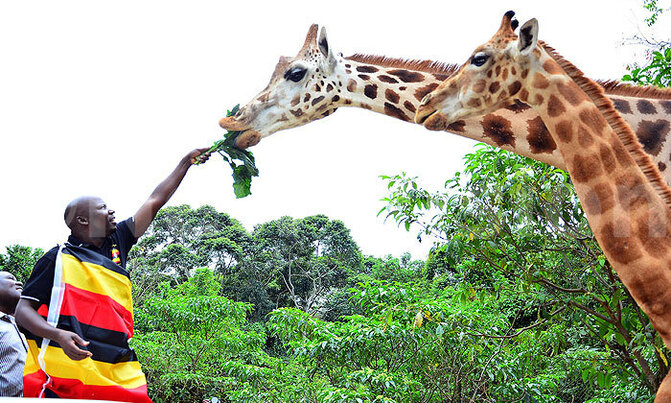 One story is on the World Bank offering about sh80b to finance programmes to reduce the clash between people and wildlife.
PIC: Godfrey Kiwanda, the state minister for tourism, feeds giraffes at the Uganda Wildlife Education Centre (UWEC) in Entebbe. (Credit: Miriam Namutebi)

It's mid-morning on a relatively warm day in Kampala. Here's a review of today's New Vision newspaper, which you can also read online HERE.

How did a minister's company come to owe the Government over sh8b? Why did the government allow this BIG AMOUNT of money to accumulate and for how long? Did the minister borrow the money? Did the government offer him services he failed to pay for? How is the government planning to recover the money and WHO is this minister? Find all the answers and more details in today's New Vision.

Meanwhile, a Mulago Hospital engineer and four other workers have been arrested over the theft of 11 hospital beds. Find the names of the suspects and many other items they are reported to have stolen from the hospital.

The Wakiso district CAO has interdicted two top officials and 15 other district workers for failure to execute their duties following President Museveni's visit to Nakawuka health center. We have the names of all the people who been suspended. Find out what more changes are being carried out across the district.
If you live near a game park, New Vision has good news for you. The World Bank has offered $25m (about sh80b) to finance programmes that will reduce the clash between people and wildlife. Get a copy of the New Vision to know which income-generating projects are in the pipeline and how you can participate and benefit from this money.

Did you know that Mbale municipality loses over sh4b every month. Find out where this money has been going as councillors demand for heads to roll. We also have the people whose jobs are at stake.

By the way, in a rather good story from Mbale, we have the fascinating Imbalu ceremonies in pictures.

IN LUWERO . . .

Politicans and opinion leaders blast Luweero Triangle residents the dependency and self-pity syndromes several decades after the bush war.

See what the leaders of Luwero, Nakaseke and Nakasongola districts advised their people to do.

IN KASESE . . .

The banana wilt disease is sweeping through Kasese district, leaving many farmers in tears. If you are a banana farmer in Kasese and elsewhere in Uganda, read the New Vision to know how to detect the banana wilt early enough and how to fight this dangerous disease.

IN TOTO MAGAZINE . . .

· Children, did you know that eating sugarcane is not only for fun, but it also has health benefits?

· We have tips on how you can take care of your underwear to prevent diseases.

· Meet the children who graced the International Cultural Fair

· In Sports, find the Gayaza Nursery School sports day and what the SOS children did when they hosted the Archbishop of Namirembe Diocese.

· Do not miss your birthday greetings, fashion, reviews, games, painting competitions and crossword puzzles

All in your Toto Magazine in the New Vision

IN NEWPAPERS IN EDUCATION . . .
Did you know that some children's rights can be withdrawn? Being a child isn't enough defense in court. Children's rights are guaranteed by birth and are not just given to them by anyone but they can be withdrawn or limited. Children can actually be charged and punished if they commit criminal offenses. Find out which rights would be most affected and which offenses can lead a child to be arrested and remanded? Read and learn more in the New Vision.

How do you adequately prepare for exams? Not all those who pass with flying colours are the cleverest in class. Neither do they copy or cheat in exams. No, these students have mastered the steps to passing exams. With so many examinations to do in school life, the earlier you learn these tricks, the better. You too can float on top of your class if you learn how to prepare for exams. Do not miss the tips in the New Vision.

WHO GAINS MOST FROM DRUG AND SUBSTANCE ABUSE?
There are three players in the game of drug and substance abuse. The manufacturer, the dealer and the consumer. Who do you think gains most? Who spends? Who gets mental illnesses? Who gets the cancer? Of course, it is you, the consumer, so stay away from drugs and substance abuse.

IN MWALIMU . . .
It is Prom time. That time of the year when candidates, especially from single-sex schools, mix and mingle with students of the opposite sex. In Mwalimu this week, we bring you the deeper insights into the good, the bad and the ugly that transpires during and after Proms. We also have views from parents, psychologists, teachers and the education ministry.

On several occasions, sports teams, including the national team, are seen begging for financial support for their different events. Sometimes they are forced to pull out of international events due to lack of funds. Paul Mark Kayonga of Ndejje University explores the importance of sports in a child's life and how the Government can come up with sustainable funding options to boost the sporting culture in schools.

Did you know that drug abuse is a growing problem in schools? Read about New Vision's partnership with NDA and how this is helping to change the situation in Kanungu district.

Get all these stories plus many more in Mwalimu.

CLICK HERE to read the entire paper online