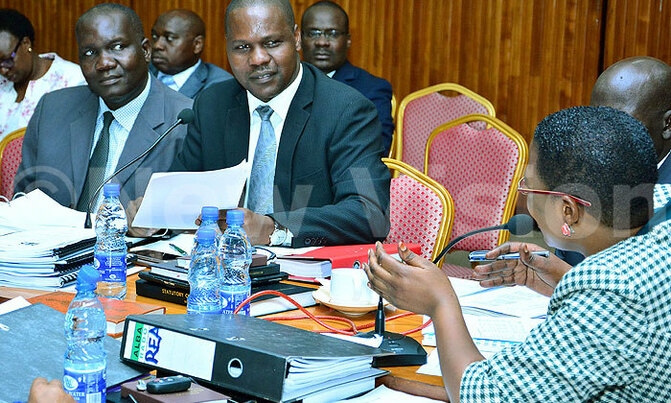 The transformer in question was required to reinforce power supply at Hirji's hotel.
PIC: ERA's Godfrey Werikhe and other officials are quizzed by the vice chairpoerson of the parliamentary committee on statutory authorities and state enterprises (COSASE) Anita Among on Tuesday. (Credit: Miriam Namutebi)

NATIONAL - Officials from the Electricity Regulatory Authorities had a rough time trying to explain how they transferred sh263m from the Agency's account to businessman Karim Hirji.

The money was reportedly donated to Hirji to purchase a transformer for Imperial Royal Hotel during Commonwealth Heads of Government Meeting (Chogm). The transformer was required to reinforce power supply at the hotel.

ERA deputy managing director Godfrey Werikhe told MPs that the money was transferred from an ERA account to Karim's personal account in Bank of Africa on the directives of President Yoweri Museveni.

According to Werikhe, it was agreed that the money would be reimbursed from the presidential donation fund by State House.

The directive was communicated to the permanent secretary in the ministry of energy by the then-minister of energy Daudi Migereko.

"The President said it was part of his donation and the money would be reimbursed by State House comptroller. It is now nine years and State House has not yet reimbursed it despite several communications," he said.

MP Nandala Mafabi wondered whether the transformer was later bought.

"The issue was a transformer. Why didn't you provide it to Imperial Royale? Why did you instead transfer the money to Karim's personal account?" said Mafabi.

Anita Among said as a technical team, the officials should have advised the minister not to transfer the money but deliver a transformer to the hotel.

"We were directed to provide money. That is where our role stopped," said Werikhe.

The committee directed the officials to table documents relating to the transaction.