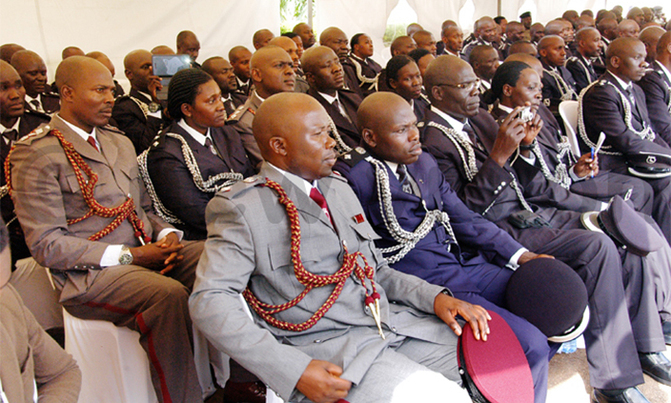 Byaruhanga declined to disclose the number of those affected with the deadly disease saying that field teams were still comparing data.
A big number of police officers tested positive for Hepatitis B during the on-going check-up and vaccination camps around Kampala City.
The Police surgeon Dr Moses Byaruhanga, a forensic pathologist and the acting Director Police Health told New Vision that during the campaign to create awareness and fight against the disease, some officers were found positive were referred to Ministry of Health for treatment.
"Our officers are always in the community where they are involved in risky activties like rescuing accident victims, carrying bodies to the mortuary. That way, they get exposed to the disease, so we have decided to screen all of them in different stations to prevent and sensitise the disease, during the exercise, we have found some with the disease and they have been sent to Ministry of Health," he said. Such screening excersie was last week held at Katwe in Kampala.
Byaruhanga declined to disclose the number of those affected with the deadly disease saying that field teams were still comparing data.
"The number is not alarming but we cannot give out information now because we are still comparing data country wide. The information will be out after two weeks," he noted.
The exercise which was organised by the police medical team and Ministry of Health will enable Police officers to participate in fighting the silent killer.
Speaking to New vision, the deputy criminal investigation and intelligence officer, Hassan Musooba, noted that when they were called upon, most officers responded positively which is a good thing to their families and the community.
"It is healthy to have a medical check-up, the turn up in Katwe police station was big due to subsidised costs, all along, I have been waiting for such an opportunity. I advise the public to take tests for Hepatitis B and accept to get immunised because the disease is deadly," he said.
One police officer who chose anonymity said he lost a 22 year old son to hepatitis B, the disease was diagnosed late and nothing much could be done to stabilize the medical condition and even his save life. The cop said he was forced to rush to Nsambya hospital for his first dose after realising how serious the disease was.
According to the project coordinator at Norvick hospital, Lorah Mukasa, much attention should put into educating the citizens more especially the youth since they are the mostly affected people and have a bigger percentage on Uganda's population. She encouraged people to finish up the three doses so as to live a free hepatitis B life.
Dr Ruth Nadaula of Norvick hospital said that Hepatitis B is a virus that infects the liver. This can cause, liver cancer, liver cirrhosis (the liver develops scars) and even leads to liver failure which results into death, this labels Hepatitis B as among the most dangerous diseases the nation is facing currently.
She said the outbreak was first registered in northern and western parts of Uganda. The Ugandan government spear headed its prevention programme through the ministry of health to contain and eliminate the deadly disease. Though, according to research, the two regions (northern and western parts of Uganda) still have the highest percentage of infections, whereas, central Uganda is reportedly having a percentage of 8% to10% cases of Hepatitis B. This deadly disease is known to mostly affect the youth aged 20 years to 35 years.
The doctor further said, like HIV aids, Hepatitis B is transmitted mainly through sexual intercourse with an infected person, never the less, it's also transmitted through blood transmission, mother to child, sharing of contaminated instruments (in most cases sharp instruments). The best way to stay safe from the deadly disease is vaccination. Once someone tests negative for the disease, he or she is highly advised and recommended to get vaccinated (contains 3 doses). If someone tests positive, he or she is referred to a doctor for further medication.
The Government started screening people for Hepatitis B-Virus (HBV) in 12 districts believed to have the highest infection rates in northern and eastern Uganda last year.
People found to be negative are supposed to be vaccinated against the virulent disease while those that test positive are expected to be followed up for possible enrollment into care.
The districts where the HBV control programme is being undertaken include Arua, Koboko, Moyo, Adjumani, Gulu, Lira and Dokolo. Others are Napak, Moroto, Kumi, Tororo and Ngora.