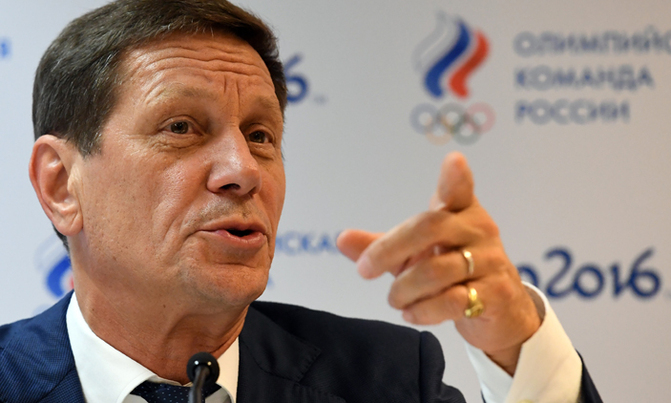 IOC said "rigorous" extra testing would be imposed on Russians allowed into the Games
The International Olympic Committee on Thursday approved 271 Russian athletes to take part in the Rio Games after a major doping review eliminated 118 competitors.
Russia, accused of operating a huge state-orchestrated doping system, will now have its smallest Olympic team for more than a century for the Games which start on Friday.
Russian Olympic Committee president Alexander Zhukov said the team was "probably the cleanest in Rio" because of all the tests and checks they have undergone.
The Court of Arbitration for Sport is still hearing some Russian cases so the number could rise.
But the IOC said "rigorous" extra testing would be imposed on Russians allowed into the Games.
"Any non-availability for this programme will lead to the immediate withdrawal of the accreditation by the IOC."
Russia entered 389 athletes for the Games. But a report for the World Anti-Doping Agency (WADA) blamed the Russian sports ministry and secret service of running the doping programme and set off the biggest doping scandal in Olympic history.
The IOC ordered individual federations to decide which athletes are clean enough to compete and their final lists were vetted by a three-member IOC panel.
Two Russian swimmers named in WADA's bombshell McLaren report were included among a 31-strong squad for the Olympics, world swimming body FINA said.
Canoeist Andre Kraitor was also put back in the team after winning an appeal to the Court of Arbitration for Sport on Thursday.
Brazil held, Pele suffers
The Russian team will be the smallest since the Russian Empire sent 159 athletes to the 1912 Games in Stockholm.
The doping storm has overshadowed the buildup to Friday's opening ceremony in Rio's 60,000 capacity Maracana stadium.
The mood in the football-crazy nation suffered another dampener as the country's Olympic team were held to a disappointing 0-0 draw by South Africa in their opening game.
Not even the presence of Barcelona superstar Neymar could inspire Brazil to victory over the African underdogs. Germany and Mexico drew 2-2 in their game.
Five-time World Cup-winners Brazil are desperate to win the Olympic gold medal -- the only international football title they have never won.
Russia meanwhile became a part of the political and social tensions ahead of Friday's opening ceremony. A Russian vice-consul in Rio killed a mugger who attacked him during a struggle, police said.
Security forces are on alert for protests are expected around the Maracana where the ceremony, starting at 2300 GMT, is to feature the likes of supermodel Gisele Bundchen and transgender beauty Lea T.
"It's going to be a beautiful ceremony, very Brazilian, very Olympics, and very sportsmanlike," Rio 2016 spokesman Mario Andrada told a press conference.
But the ceremony could be targeted by protests directed against Brazil's interim president Michel Temer, who took over from Dilma Rousseff while she battles impeachment proceedings.
Temer has said he expects to heckled when he declares the Games open. Brazilian media reports say that music will be turned up as soon as he finishes speaking to mask any booing.
Ill-health may prevent Brazilian football legend Pele from taking part in the ceremony. Pele said he had been invited to light the Olympic flame at the ceremony.
"He has muscle pain which is affecting his mobility. He has gone to the doctor to see how things are," Pele's spokesman said.
Foreign dignitaries began arriving in Rio on Thursday, with French president Francois Hollande lending his support to Paris's bid to host the 2024 Games.
Italian beach volleyball player Viktoria Orsi Toth meanwhile became the first athlete to be sent home from Rio after failing a dope test.
A second athlete -- identified by Irish media as boxer Michael O'Reilly -- also faces an early flight home after allegedly failing a drugs test.
The first Olympic gold medal should be awarded on Saturday in the shooting.
Some 10,500 athletes are taking part in the Games which end on August 21.