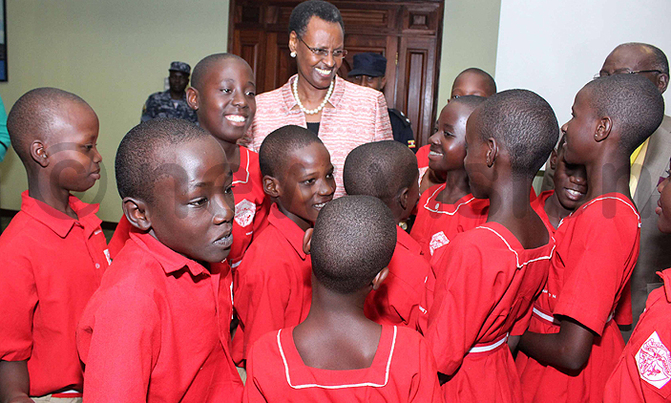 Some schools authorities have tried to raise money from parents to provide meals to pupils
The First Lady and education minister Janet Kataaha Museveni has said she intends to embark on a countrywide sensitization campaign to encourage parents to pack food for their children to schools.
"It is a shame that parents in this country can ignore feeding their children while at school. They expect government to feed the school going children. But this is wrong and a shame!" Janet said.
She made the remarks at the closing of the two-day national consultation dialogue on Sustainable Development Goals (SDGs) at Imperial Royale hotel in Kampala on Thursday.
The conference was sponsored by the United Nations Educational, Scientific and Cultural Organization (UNESCO), the UN-lead agency in steering education projects.
Uganda is the first country in the East African region to hold a national consultative dialogue on SDGs, with particular focus on SDG4 that requires UN member countries to provide inclusive and equitable quality education and promote lifelong learning opportunities for all by 2030. The 17 SDGs were approved by the UN general assembly last year.
Janet said if Uganda is to achieve the SDGs that replaced the Millennium Development Goals (MDGs) in 2015, parents should fulfill their role of feeding the children at their respective homes and schools.
"This country managed to feed its children even during the hard days (of war). How come parents are saying they cannot feed their children, with a balanced diet, when there is peace in the country?" she wondered.
Free education
Uganda introduced Universal Primary Education (UPE) in 1997 and Universal Secondary Education (USE) in 2007. Before the introduction of UPE, parents packed food for children to government aided schools.
However, some of the parents misinterpreted the free education scheme to mean that the government is responsible for the total welfare of their children at schools including, among others, providing fees, meals and scholastic materials.
Some schools authorities have tried to raise money from parents to provide meals to pupils, but the plan has been rejected by some parents claiming they cannot afford to pay extra fees for their children in UPE schools.
The same parents do not pack food for their children to school which undermines the already poor academic standards in public primary schools.
The government also stopped schools from collecting extra fees for meals from parents, but in some in cases, where parents have accepted to contribute to the welfare of their children by paying for meals, the schools continue to collect the money.
"The government is paying fees, building schools and providing scholastic materials. The parents should provide the meals. I have started a campaign of sensitizing parents to provide meals to their children and I need your support," Janet stated.
She also added that, "As a country, we are still grappling with issues of drop-out rates which are high in some regions, especially for girls. We need strategies to address this challenge which has become a disease in our education system."
"We need to ensure we have effective learning outcomes for both girls and boys, and ensure that all young people have access to quality education.
The First Lady praised students of Budo Junior School, who presented a poem at the event. The poem was tagged to the problems affecting the country's education system and the new SDGs.
"These children have relayed to you some of the challenges we need to resolve. We need to work together as a nation to make sure our country's education is improved," she added.
SDG 4 task force formed
During the conference, stakeholders appointed the education ministry as the coordinating agency for SDG 4. Rosie Agoi, the general secretary of Uganda National Commission for UNESCO, said the ministry will work with other partners - UNESCO, Office of the Prime Minister, Uganda Bureau of Standards, UNICEF, private sector, civil society and universities.
"The partners will constitute a national taskforce that is going to finalize the draft road map on SDG 4 and mapping of the technical assistance needs by October 15. This will be in preparation for a regional forum for Eastern Africa due to take place before January 2017," Agoi said.