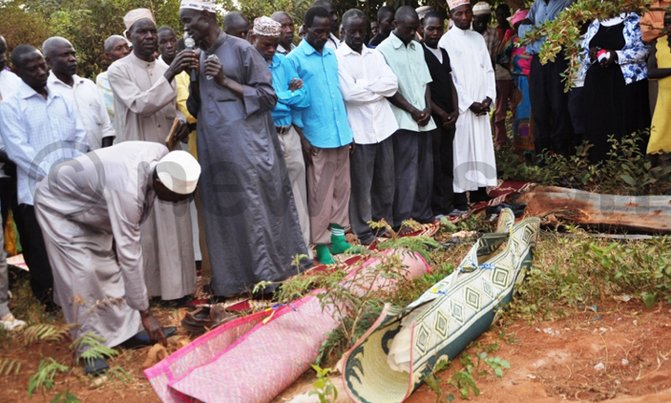 One more person who is believed to be the main suspect is still on the run
Police in Nakaseke have arrested five people in relation to last week's tragic incident in which unknown assailants waylaid and decapitated two pupils who were returning home from school.
The decomposing bodies of the two victims; Jamal Kyakonye aged 4 and his sister Hajara Nakabirwa aged 5, both pupils of Delighted Jove Infant School in Nakaseke, were found dumped by the roadside on Thursday last week.
The Savannah Regional Police commander, Julius Tusingwire said on Wednesday that police had arrested five people believed to have masterminded the heinous murder.
He said one more person who is believed to be the main suspect was still on the run.
Tusingwire said Police investigations had revealed that the unknown assailants first rang the father of the two children asking for a ransom of 600,000 so as not to kill the kids, a threat which they implemented after the father failed to raise the money.
The Regional Police Commander said the pupils' father was embroiled in a land wrangle with a group of villagers, one of whom had issued threats to do harm to his family.
According to Tusingwire, the murder of the pupils could have been an act of revenge by people who were involved in the wrangle.
"At first we thought the assailant only wanted ransom, but it appears these are people who had a grudge with the father of the pupils," Tusingwire said.
The grandmother of the victims, Zaitun Nambi said she last saw them alive when they left for school a fortnight ago on Friday and got concerned when they did not return home after school that day.
She said she alerted her neighbours who mounted a search that yielded no fruits for three days until Thursday.
Nambi said the victims have been walking a distance of about a kilometre every day to go to school and back.